The Chase County school district has thought out of the box to find ways for students to be able to attend school easier and safer. Learning from the difficulties of remote learning, they had created three phases: Green Phase, Yellow Phase, Red Phase.
For Green Phase students had to follow the hallway 'one way' signs, social distance in classes, wear masks, didn't have access to school lockers, sanitize desks, and have different lunch hours. For Yellow Phase the students were separated into their seminar classrooms for the school day, social distance, Zoom into classes, eat lunches in the classroom, and use one bathroom. Red Phase is where cohort groups would be made and they would meet in the closest public building to Zoom into classes.
The Yellow Phase had its advantages and disadvantages. Being confined in one room was hard for students and they wanted activities to do. To solve this the teachers scheduled walks for their rooms to take. Some other activities that classes did were puzzles, ping pong, cards, etc.
"Not being able to have face to face interaction for some classes was a challenge for me," freshman Colin Monihen.
Other challenges arose also. Such as not having all the materials for classes, not having a full class period, lack of motivation for schoolwork, and decreasing grades.
"I just wish that I could have some of the utensils that I need for my more hands on classes like ceramics and better technology access for my graphic design classes," senior Liz McLaren said.
The quarantined students had a more challenging time with school.
"I've been quarantined twice now. The only thing about being at home is I have to keep track of the time and lose the motivation to do things. At school it's like an oriented place like I have the mindset of working there rather than at home," senior Ivy Francis said.
Once the students got back from winter break they went into Yellow Phase for two weeks, to prevent the spread of Covid. By the end the school board created Orange Phase; this was a modified Green Phase but instead of different lunch hours they ate lunches in their seminar rooms, like they do in Yellow Phase.
"The most challenging thing for me to do is stay on task and stay motivated to do all of my work. I learned to take breaks and spread out my homework throughout the day," sophomore Cooper Schroer said.
Overall, many students preferred being at school rather than being quarantined at home.
"I was quarantined but only for three days it's harder being at home because it's a place you go to unwind and when you're made to do school work and it really takes that relaxation aspect away," junior Reese Kohr said.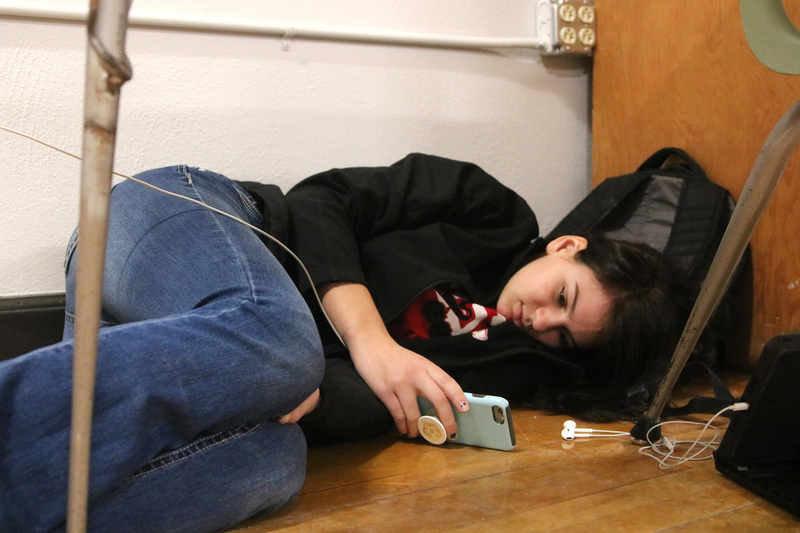 During her study period, junior Reese Kohr scrolls through her social media. Zooming into classes helps students get their homework done quicker and allows for more free time. "I enjoy being able to take a break from my school work by reading a book or looking at social media," Kohr said.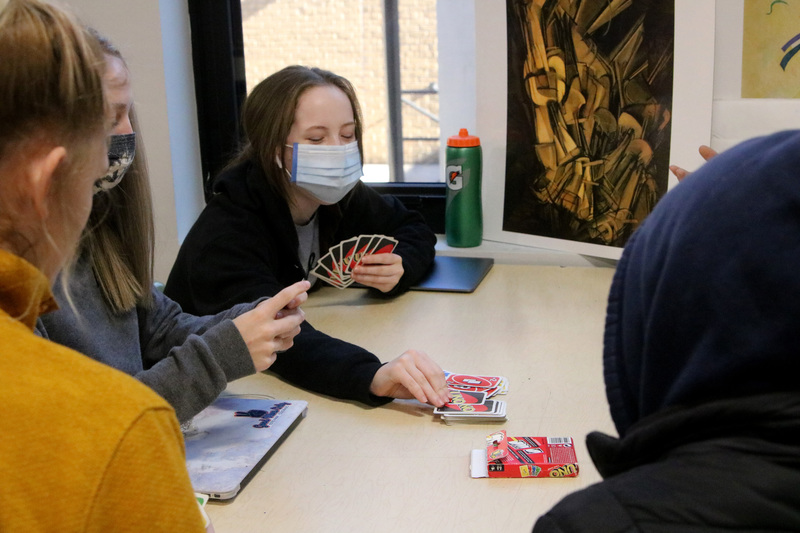 Playing UNO is one way that junior Bella Zerbe spends her free time. During Yellow Phase, students play card games to interact with their classmates. "Our group plays a lot of card games and ping pong to pass the time when we aren't in classes," Zerbe said. "We all are pretty good friends so we have a really good time."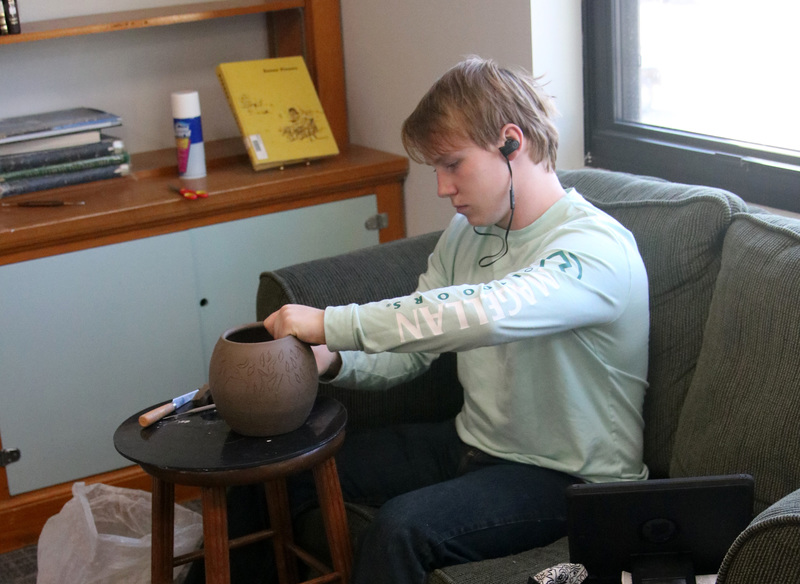 Senior Cory Owen works on his pottery project outside of the ceramics room. Art students are able to continue their projects, even in Yellow Phase. "Yellow Phase makes art more difficult," Owen said. "You don't have all of the resources like you would in the classroom but Mr. Escobar provides the best he could."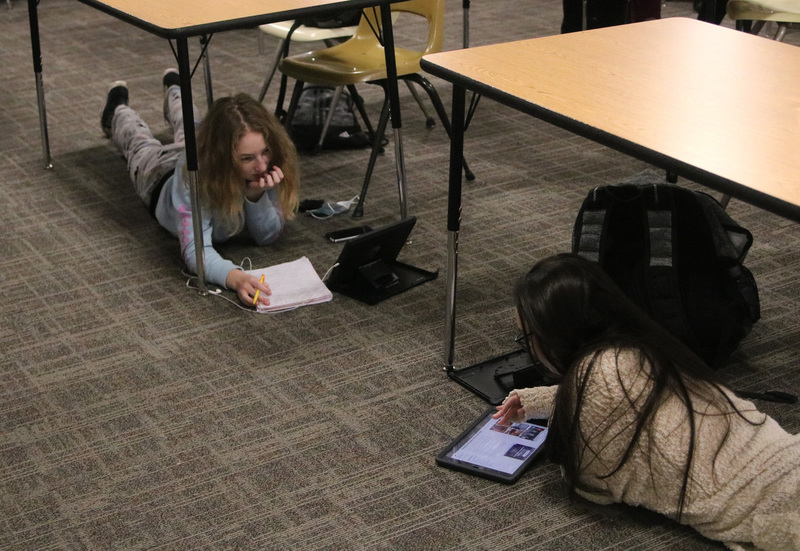 Working together, sophomores Leaya Francis and Grace O'Brien discuss their English assignment. Since grade levels are put into the same classrooms, working together is a lot easier for the students. "Since the people in my group share the same classes as I do, it is easy to get help from them and my homework gets done faster," Francis said.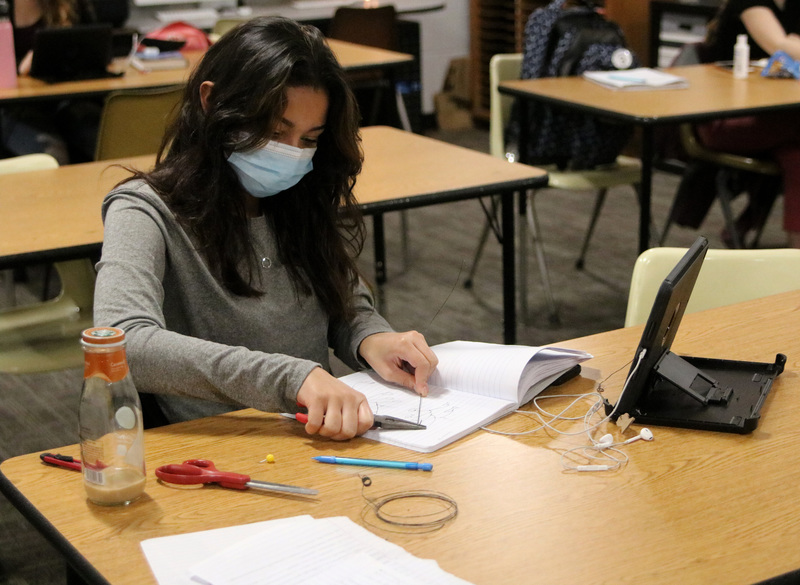 For her art class, sophomore Ariana Hernandez creates a wire mobile. The students are given materials to work on their projects while getting their teacher's incite over zoom. "It is more of a challenge to communicate with my teachers over zoom but I am glad I still have the opportunity to create art," Hernandez said.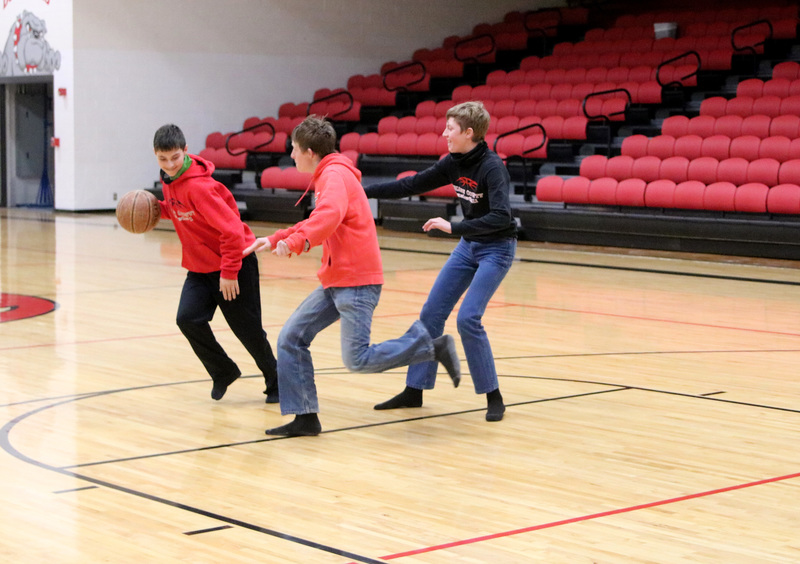 Playing basketball during his gym time is eighth grader Daniel McLaren. Each classroom has a scheduled gym time during the day so they can get out of the classroom and have some fun. "In Yellow Phase we have a lot of fun in the gym since we can't do PE. It is always fun to play 2 on 2 with my friends," McLaren said.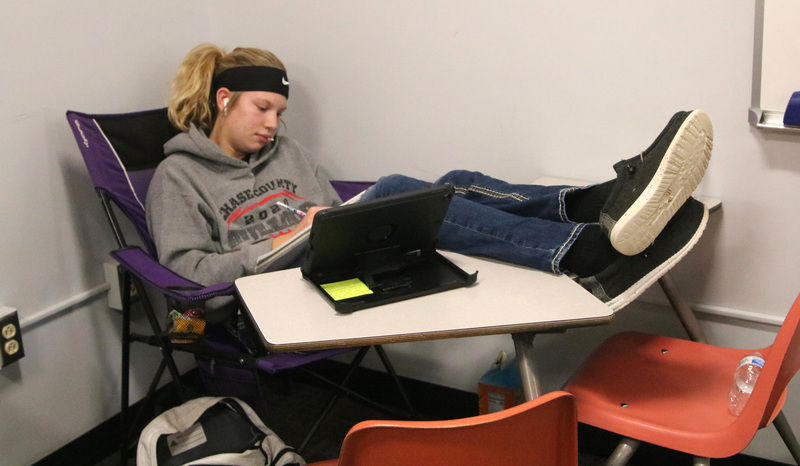 Freshman Lilly Hinkson is working on her homework while staying comfortable. Many teachers in Yellow Phase allow students to bring comfortable chairs to keep them relaxed but focused. "Yellow Phase gives me so much more time to finish my homework from all my classes," Hinkson said. "If I don't have any, I could talk to my other classmates and just have fun."