The COVID-19 pandemic has not made life easy. All places such as schools, businesses, churches, stores, etc have had to make adjustments to the way they run things. Masks are mandatory as well as social distancing, and sanitizing is crucial.
The way schools have been working outside of the county is mainly through zoom and online, however CCJSHS is adjusting to this world-wide pandemic fairly different. If the amount of cases in the county spikes, the school goes into an immediate "yellow phase".
Yellow phase means that students will remain in one classroom the entire day with their seminar teachers (should they need any help), and zoom into all of their classes. It may seem a little unnecessary, however yellow phase allows those who do not have internet access at home to be able to do their school work. Another benefit to yellow phase is that students are still able to see their peers and be social while remaining socially distanced and safe. While this may not be ideal, it is what's best for the students.
Even though this is a situation no one would want to be in, there are some students who feel it wasn't a terrible experience for them, but it also wasn't perfect.
"I personally like yellow phase. I enjoy the extra time that we get to use to do work and also the little bits of extra time we get to play cards or ping pong with friends," junior Lexi Monihen said. "The largest draw back to yellow phase is being in the same room all day. I don't really enjoy that aspect mainly because of how cold it is in our school, along with how disgusting our floors are. We couldn't move to the ground as a different option without getting nasty from the dust."
Yellow phase was created to try to control the spread of the COVID-19 illness. Some students feel as if the intention of yellow phase was good but the execution of it was ineffective.
"I think yellow phase has been somewhat beneficial for our school regarding the number of cases. But, there's definitely people still not wearing their masks," sophomore Abby Jones said. "Our school is also still hosting events so I don't really see how being in yellow phase is helping."
Since everybody uses zoom and the internet throughout the day, internet issues were inevitable. There were many problems with zooming into classes or submitting assignments on time because of these issues.
"I did have quite a few problems with zooming. Often, my wifi was not working properly and I couldn't get on a zoom call or the screen buffered way too much," junior Laura Koch said.
Learning is different for everyone. There are hands-on learners, visual learners, etc. So zooming into a class to try to learn was actually very difficult for many.
"I do not feel as if I have learned much of anything through Zoom. Asking questions has become rather difficult through the program, as have the processes of note taking and group participation. Often, the teachers would streamline their curriculums as to accommodate the situation, though the result was a far less substantive education," senior Aidan Shaw said. "Zoom has proven many times over the past year to be a poor substitute to actual learning, and as such I cannot help but feel that we are being deprived of our education throughout the use of it."
Overall, yellow phase is not ideal, but the school is trying everything in their power to keep everyone in the building while still remaining safe. At the end of the day, this world-wide pandemic has made life different for everyone, and we all adjust differently.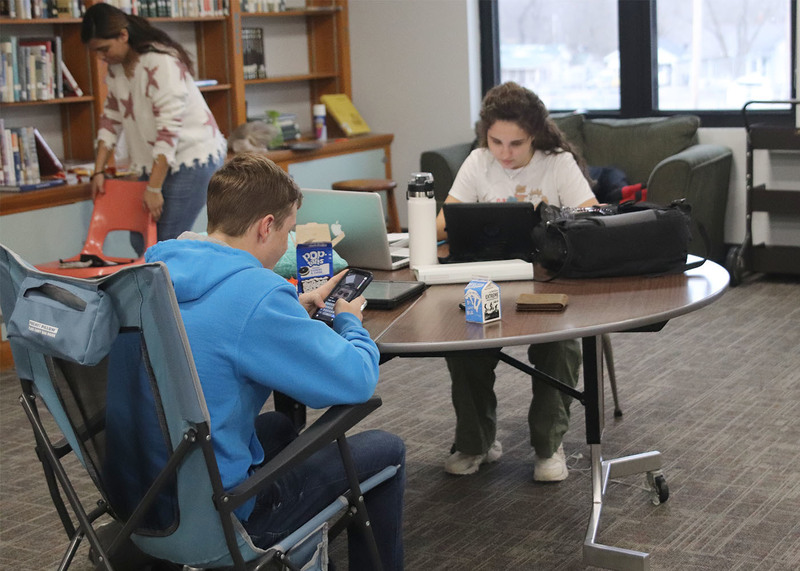 Seniors Liz McLaren and Brock Lauer spend their time working during Yellow Phase. In between their work they find time to relax. Lauer is sitting in a lawn chair that he brought from home because the school's chairs are "uncomfy."
Alexis Herron, senior, is zooming into her class at her own desk. Classes during Yellow Phase all took place on Zoom so that teachers could teach their classes without being face-to-face with them.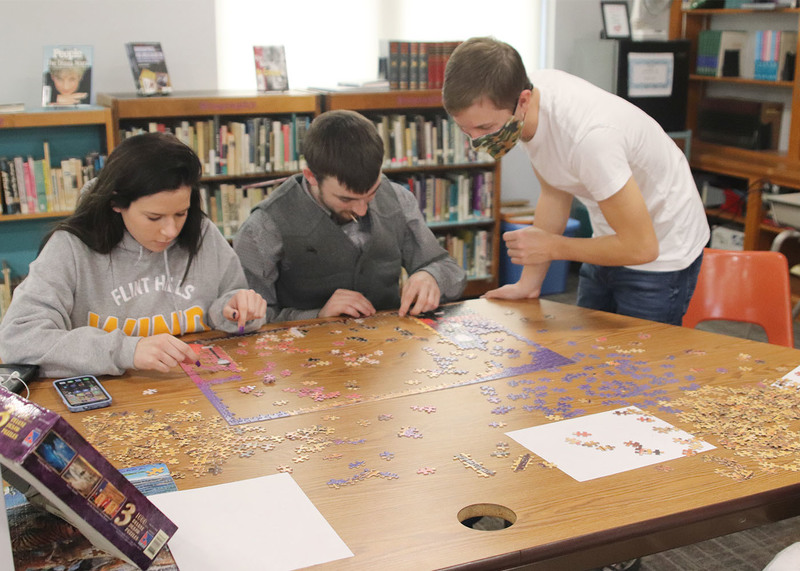 When they are not in class seniors Brylee Potter, Blaise Holloway, and Brock Lauer work on a puzzle. It is something they do everyday and are excited to finish. Yellow Phase can be tiring for some students, so mind-engaging activities help to keep them alert.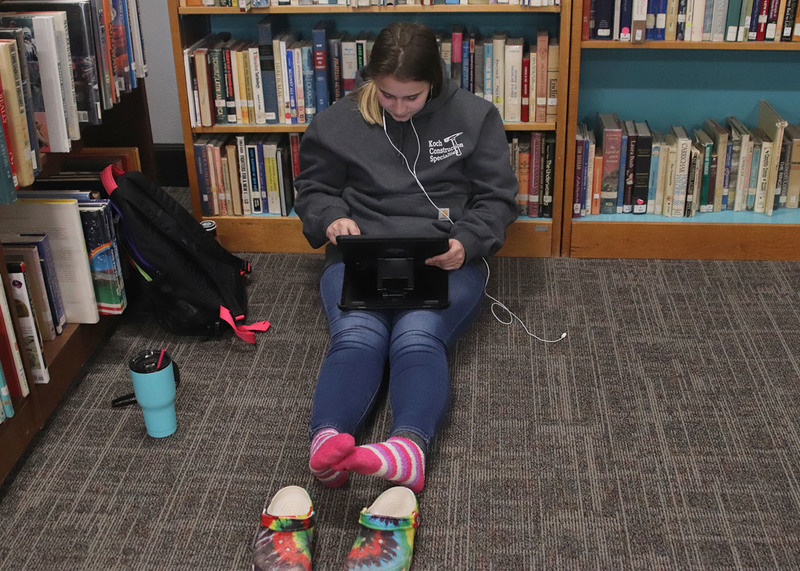 Being in a chair all day can get old, so Jessica Kop, senior, finds a comfortable spot on the floor. It is easier for students to get their work done when they are not focused on how uncomfortable they are.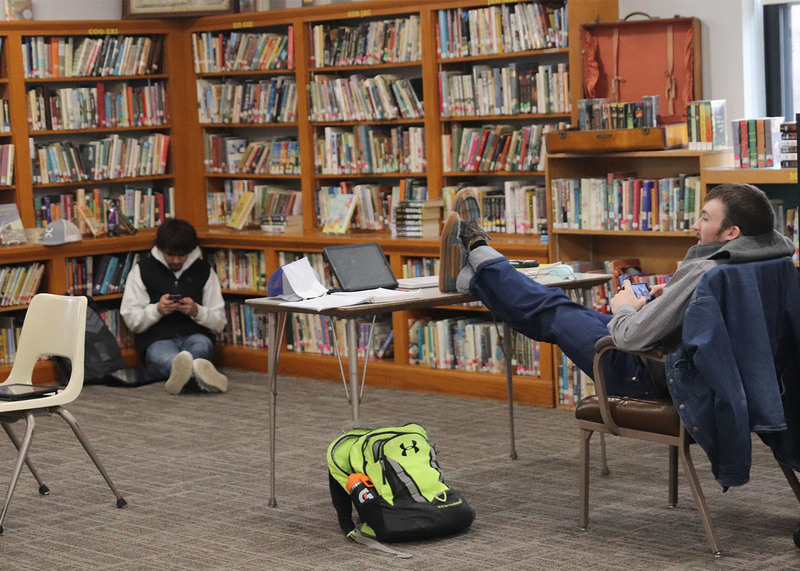 Senior Blaise Holloway gets comfortable when he is not in class. He spends some of his free time playing on his phone along with fellow classmate, senior Tylon Ybarra. The two took time to finish their work quickly so that they could have more free time during the day.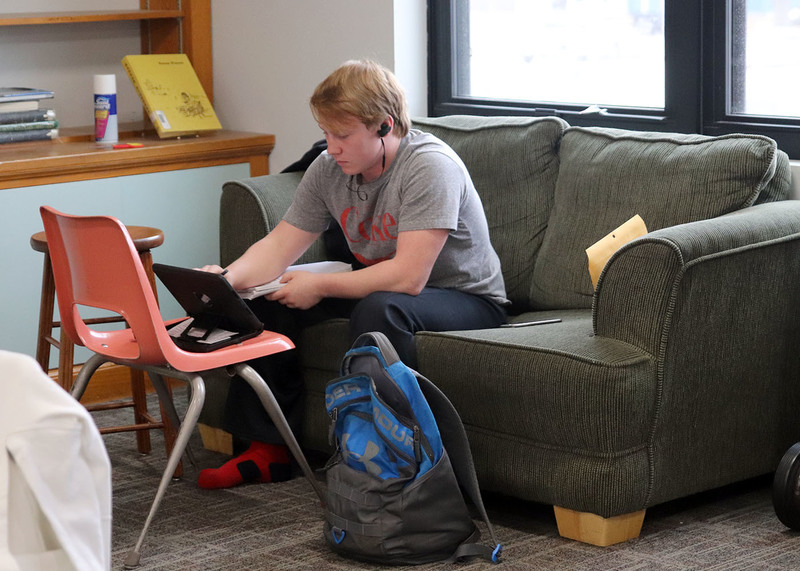 Sitting in one classroom all day can get uncomfortable. Senior Cory Owen stays comfortable on a couch by himself, all while getting his class work done.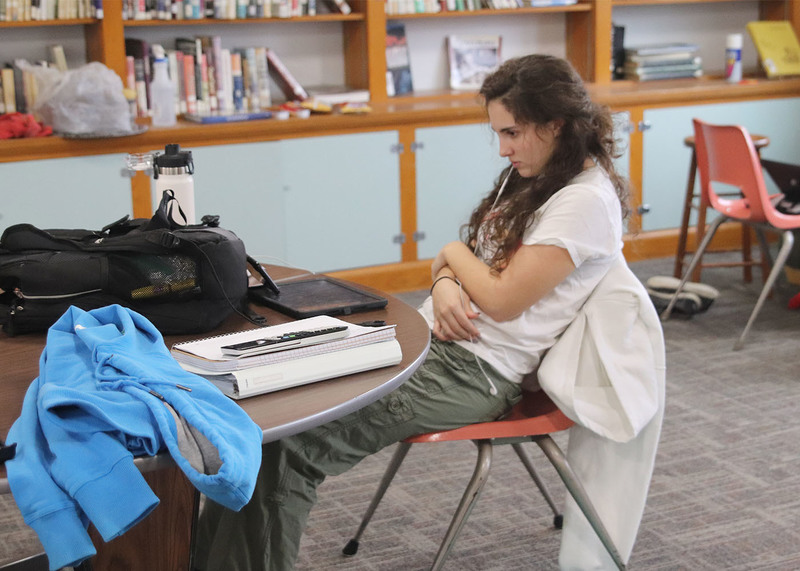 Liz McLaren, senior, is zooming into her class. She uses her headphones to stay focused during class in order to tune out the other students present in her Yellow Phase room while she does her work.
Focusing during Yellow Phase can be difficult. Senior Rosa Soria has her headphones in so she can focus on her work. As she sits back, Soria also kicks off her shoes to get more comfortable.