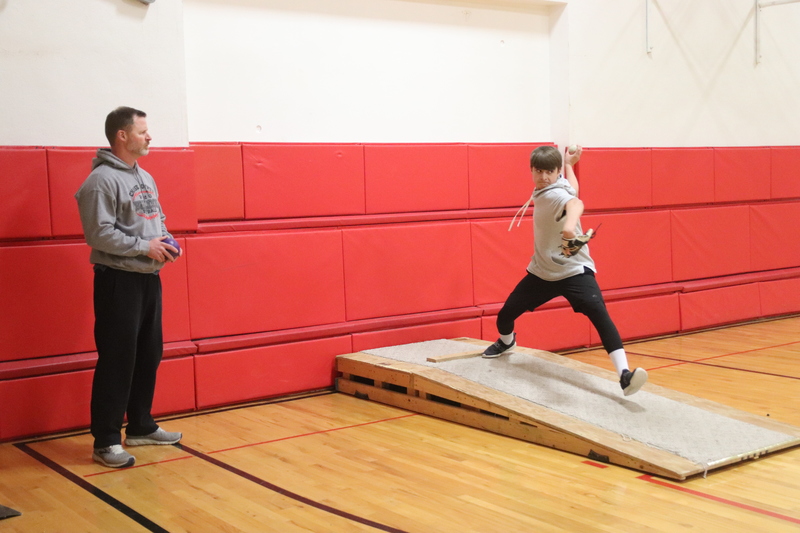 During an evening practice in mid February, Ryan Kohlmeier, former pro baseball player, checks out sophomore Taylor Palenske's pitching form. Several members of the baseball team met once a week to work with Kohlmeier to work on fundamentals.
Ryan Kohlmeier, former pro baseball player, was born in Salina and is a Chase County graduate. He was drafted by the Colorado Rockies in the 34th round of the 1994 amateur draft but did not sign. He was then drafted by the Baltimore Orioles in the 14th round of the 1996 amateur draft and signed with the team as a right-handed pitcher in August.
He played for the Orioles from 2000-01 and then was claimed off waivers by the White Sox on Sept. 19, 2001. He played on the White Sox minor league team from 2002-04 and then announced his retirement on Aug. 14, 2004.
After his retirement, Kohlmeier attended Emporia State University and then went to the University of Missouri-Kansas City. He received his degree in dentistry and since then has established his own practice, Kohlmeier Dental L.L.C. in Emporia.
Kohlmeier began helping the baseball team players with pitching and throwing in mid January until spring practice began last week.
"It's important to start throwing prior to the start of the season to help prevent injuries and soreness. So, I simply wanted to be available to watch and offer suggestions as the guys worked to get their arms in shape," Kohlmeier said.
With Kohlmeier's experience as a right-handed pitcher, he could help critique the team's throwing and pitching form.
"I like Ryan helping. He's pretty knowledgeable on the subject and helps us out a lot. He has a lot of experience and knows how to help us become better," sophomore Mitchell Budke said.
Kohlmeier credits his coaches for helping him get the proper fundamentals of the sport at a young age.
"The coaches that I had growing up were the most important part of me learning to play the game the right way, and they helped me to really have fun playing baseball," Kohlmeier said.
Most players are optimistic about the season, especially after the practices with Kohlmeier, and they are looking forward to a strong season.
"Ryan came to critique us on our throwing motion, but for me personally, he helped me realize I'm using my hips too much when I'm pitching," sophomore Colin Monihen said. "I think the season will go really well for us because we have a group of boys who are really talented and have played together for a long time."