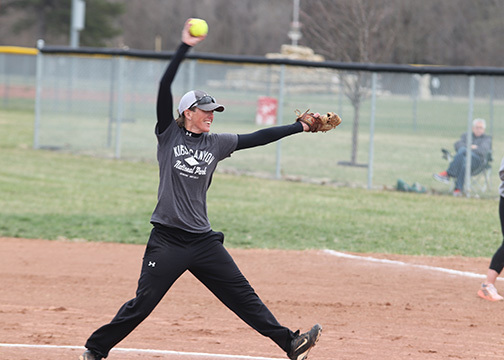 Former Bulldog pitcher Amber (Weiss) Griffin goes the distance for the alumni team with a limited number of players and no other pitchers.
Freshman Karsen Vandegrift makes it to second base after a hit by one of her teammates. Despite the Lady Bulldog' effort, they lost a close game to the alumni team.
The Lady Bulldogs softball team got a head start on the 2021 season by playing in a JV tournament on Saturday, March 20, and an alumni game the next day. The tournament in Hutchinson was successful, grabbing all three wins against Ell-Saline, 6-0, Kingman, 3-2, and Andover, 12-2.
"Having the tournament in Hutchinson before our regular season started really helped us know where we were at as a team," Junior Abby Tubach said. "Being able to get game experience after missing last year's season was a good jump forward from where we started. We got more confident as a team by winning all three games that day and really set the tone for the season."
For a highlight of the weekend, the Lady Bulldogs also played against the alumni at home. Coaching for the alumni were Katie Mann and Brianna Conley. Alumni members who played included: CeCe Lockmiller in left field, Alex (Snovelle) Swift in center field, Bailey Goodell in right field, Bailey Swift at first base, Elisa DeLong at second, Sammy Jo Peterson at shortstop, Makenzie Higgs at third, and Amber (Weiss) Griffin at pitcher.
With only eight alumni players, there weren't enough to fill the positions, so sophomore Chaya Owen, junior Abbey Vega and freshman Maesea Dold joined the alumni team for the game.
"Playing against my team was really fun but also kind of hard. I'm so used to cheering for the other girls that I play with and I wasn't really supposed to do that since they were the opponent," Vega Said. "At the same time it was really fun because I got to compete against them and just really let loose and have fun playing the game I love!"
After having the season canceled last year, the softball team was excited to be back on the field with everyone.
"Being back on the field with my team is such an amazing feeling. Although missing last year was hard I am so excited to take on this season with my team," senior Audrey Tubach said. "Not playing last year has made me practice even harder because who knows when my last one will be. It has also made me even more excited to play."
This year is coach Brian Potter's last season for coaching. He has won five championship titles during his 11-year coaching career, which also included coaching his two daughters, Brianna and Brylee.
"It's very heartbreaking to think that after this year, I won't be stepping on the field with my dad again. Softball has always been the thing that my dad and I have bonded over and I can't imagine playing the sport without him by my side," senior Brylee Potter said. "He has such a strong passion for the game of softball and I will forever cherish the moments I have had with him on the field."