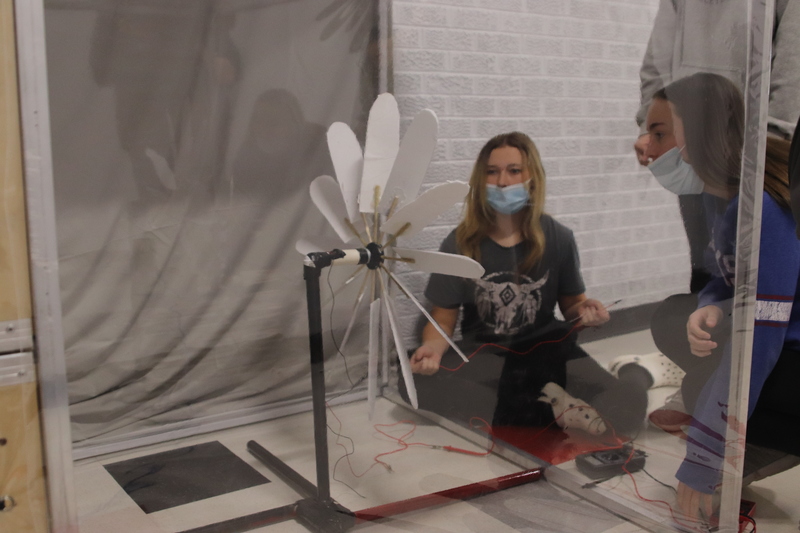 Eighth graders Makayla Matile and Carys Price get ready to test their wind turbine for the in-class competition for the KidWind project. Students in the Engineering Principles class set up the wind tunnel for this project. Photo by Christina Garr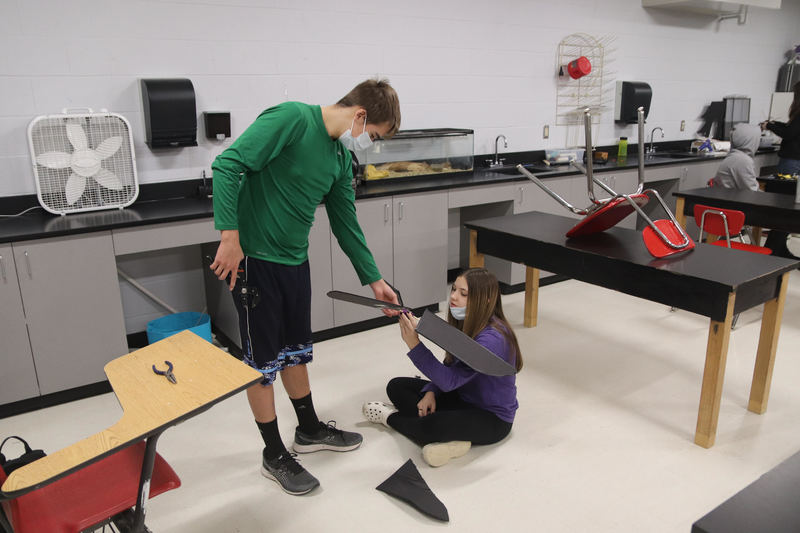 While in science class, eighth graders Reece Budke and Avery Beyer are putting their wings together for their turbine. The science department received a $2,500 grant to purchase the wind tunnel. Photo by Bella Zerbe

The eighth grade science classes are competing in the KidWind Challenges, which allows students to build and test wind turbines and then compete against other teams in their grade divisions (4-8 or 9-12). Each class was split into groups consisting of four members each. Some people, however, had to be in a group of one because of quarantine.
"The most difficult part of this project was getting the pitch of the blades right," said eighth grader Andrew Tacy, who was in quarantine during this project. "I got my supplies from our scrap pile at my house. My favorite part was welding the frame together."
The science classes received a grant from the Chase County Community Foundation, which allowed for the class to purchase a new Vernier Wind Tunnel instead of using a makeshift wind tunnel out of a giant fan and a giant plastic bag. The Engineering Principles students were the ones who put the wind tunnel.
"We received a grant from the Chase County Community Foundation. It was for $2,500 to purchase a Vernier Wind Tunnel," eighth grade science teacher Troy Johnson said. "This is the same tunnel that is used in regional, state and national KidWind Challenge competitions."
The top three teams from regional challenges will go on to compete in the statewide competition. After the statewide competition, the top three teams advance to the national competition.
"I have an in-class competition to narrow it down to three teams. I will then submit them to the KidWind competition in Manhattan," Johnson said. "In years past, and I hope in the future, we took the top three teams to the regional competition held at Wolf Creek Education Center near Burlington."
Team winners included: first place - The Rednecks: Carson Schroer, Clay Dold, Masen Scott and Chaz Smith; second place - The Windiest People on Earth: Luke Budke, Kinslea Glanville, Connor Jahnke and Jordyn Hoffman; and third place - The Special Scientists: Colton Kewley, Chris Rangel, Daniel McLaren and Tate Morgan.
"The goal of the turbines was to create the most amount of wind power, and also to learn more about wind turbines and understand them," Glanville said. "Some difficulties were that our base ideas and blade ideas weren't working out at first. We had to use our prototype blades and create a different base."