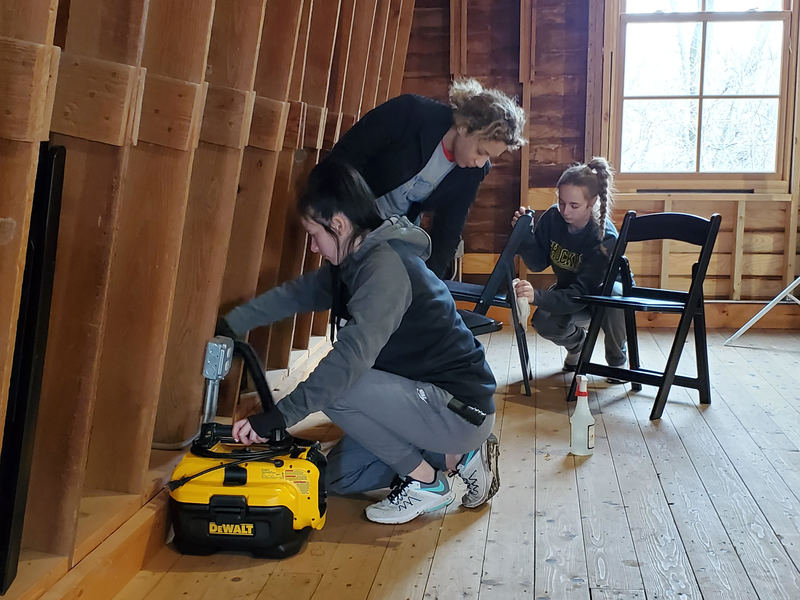 Senior Brylee Potter vacuums along the side of the wall while sophomores Avia Banks and Emily Miser dust chairs.
Junior Haven Schroeder and sophomore Kaleb Fetrow stack the cleaned chairs back in the barn.
On March 18, seven Kansas Association for Youth volunteers and their sponsor, Sam Cahoone, helped at Pioneer Bluffs with cleaning chairs and the inside of the barn which is used for social events. Most members worked for three to four hours to help earn service points.
"We cleaned around 400-500 chairs and we swept the floor and dusted the inside of the building for about three hours," junior Havyn Schroeder said.
Those volunteers included: sophomores Emily Miser, Ashlee Williams, Kaleb Fetrow and Avia Banks; juniors Lexi Monihen and Schroeder; and senior Brylee Potter.
The KAY organization recently held elections for cabinet members for the 2021-22 school year. Sophomore Alexis DeLong was elected President, junior Abbey Vega will be Vice President, junior Kaylee Simpson will be Secretary-Treasurer, junior Laura Koch was elected Points Director, junior Sierra Johnson was elected as Service Director, sophomore Grace O'Brien will be Director of Recreation, and sophomore Mayah Dorsey will be Publicity/StuCo Representative.
"I ran for KAY president because I have always been very involved in KAY and this organization has always been very important to me. Also, this was a good leadership opportunity for me," DeLong said.
The KAY organization held its annual Easter Egg Hunt for both morning and afternoon preschoolers and kindergarteners. Each class had about five minutes to grab as many eggs as they could before taking a group picture with the Easter bunny. The Easter bunny was Delong and senior Maddie Dold.
"I volunteered to be the Easter bunny for the little kids because I wanted to bring a little joy and happiness to their lives. It was fun to see how happy they were," Dold said.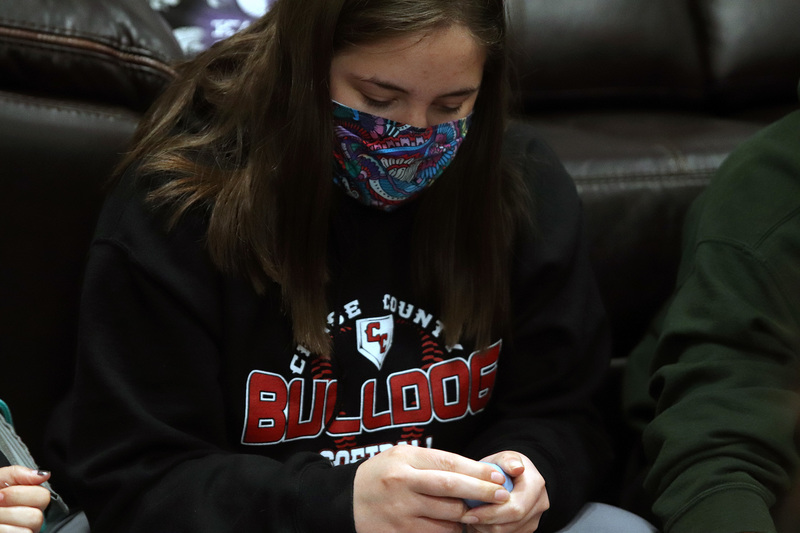 Junior Abbey Vega puts candy into the eggs before the Easter egg hunt for the kindergarteners and preschoolers.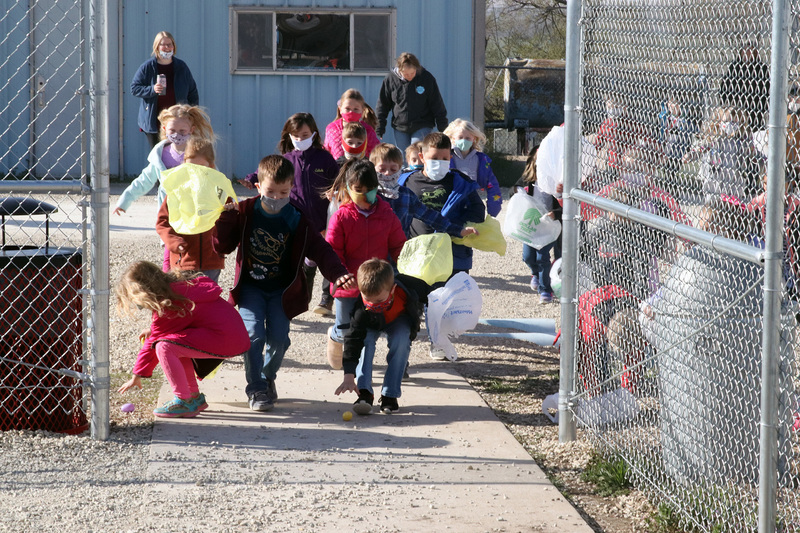 The kindergarteners scramble to find as many eggs as they can during the Easter egg hunt sponsored by the high school KAY group on Thursday, April 1.