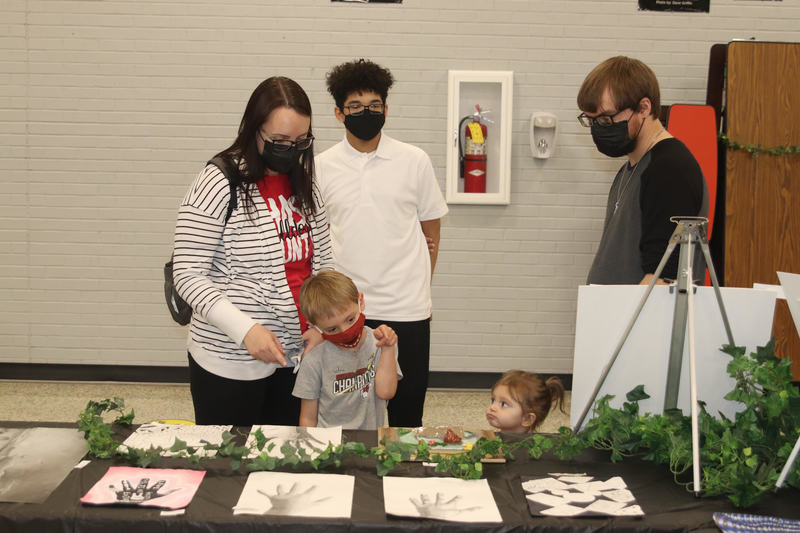 USD 284 social worker Gerri Blaisdell, along with her family, look at the art exhibits by junior high and high school students
In honor of the fine arts programs, art students and instructor Hugo Escobar organized an art show for Wednesday, May 5, to highlight work done in a variety of art classes.
"The community was able to experience some of the artwork that students have worked on for the past year. I know students were pretty excited about displaying their work and just being part of it. We had tables set up in the commons area with the student's work so as people made their way to the gym they were able to see it," Escobar said.
Several tables of art work by both junior high and high school students were displayed in the commons area for parents and community members to view.
"I'm really glad I could have my work shown. I've had it shown before so I wasn't nervous or anxious if they didn't like it," senior Ivy Francis said.
Following the art show, a music concert, including 15 songs played and a recognition ceremony for senior musicians, completed the evening. Prior to the performance music instructor Lynley Remy was very optimistic about the concert.
"Right now the band is sounding really nice! I'm quite pleased with the progress of the junior high band. Wow! We didn't start playing their instruments until February and for shortened periods of time at that," Remy said. "They have come along very nicely. When we put both bands together, the sound is terrific!"
Voices performed nine songs and a solo by junior Abby Tubach. The last song of the evening, "Glory", was sung by Tubach, juniors Abby Vega and Nora Budke, and sophomore Avia Banks.
"I liked performing the song, "Glory", because it was a song that tells a story. It's not often that we get to perform songs like that. Another aspect that I enjoyed was having the opportunity to have soloists. It was an amazing experience and I hope that we're able to perform something similar in the future," Banks said.
Included in the concert was a senior recognition ceremony. Those honored were Alexis Herron, Katelynn Graham and Aidan Shaw, who is the only senior in the band while Herron and Graham are in choir.
"When I first heard that we were having a concert, I was very excited. My parents were very upset that they hadn't gotten to see me perform in anything yet this year and so I was happy that I would be able to provide them with some entertainment before the year was done," Shaw said. "I'm rather optimistic about the concert. In practice, the songs sound very good and I don't think that will change on the night of the concert. I feel a little sad about being the only senior left in band. I know that a few of my friends in the band will be upset with me for leaving. This last concert will carry an elegiac tone, but I will be glad to be able to have something to send-off for my senior year."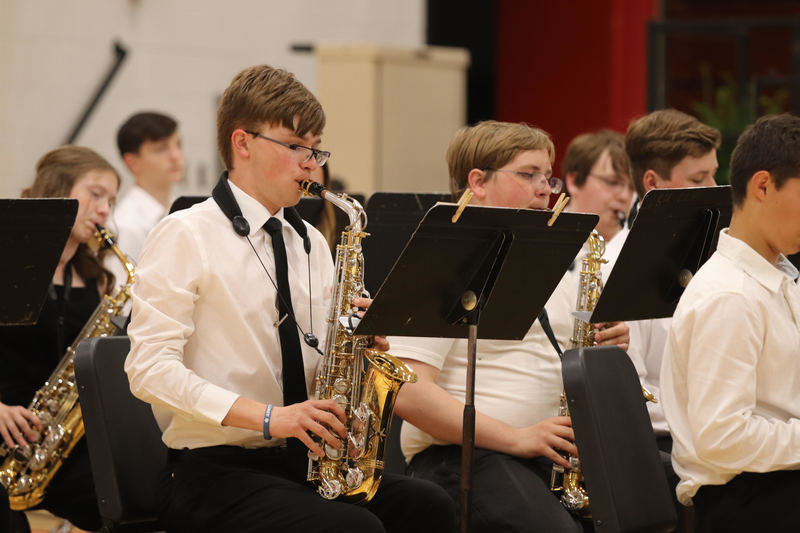 Senior Aidan Shaw and sophomore Paden Jahnke play in the saxophone section at the concert.