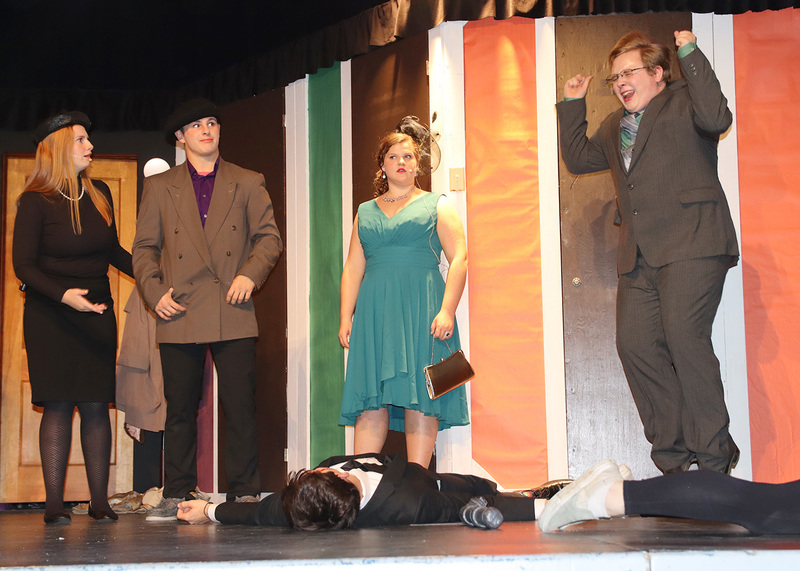 Who did the crime and where in the mansion was it committed?
The tale begins at a remote mansion, where six mysterious guests assemble for an unusual dinner party where murder and blackmail are on the menu. When their host turns up dead, they all become suspects. Led by Wadsworth – the butler, Miss Scarlett, Professor Plum, Mrs. White, Mr. Green, Mrs. Peacock and Colonel Mustard race to find the killer as the body count stacks up. Clue is the comedy whodunit that will leave both cult-fans and newcomers in stitches as they try to figure out…who did it, where, and with what!
The comedy was held on Saturday, Nov. 5 at 7 p.m. and Sunday, Nov. 6 at 2 p.m. at the high school auditorium.
The lead roles were played by: senior Paden Jahnke was Wadworth, Colonel Mustard was junior Colin Monihen, senior Alexis DeLong was playing Mrs. White, Mrs. Peacock was sophomore Lydia Filinger, Mr. Green's character was played by senior Cooper Schroer, freshman Madelyn Wilson's character was Mrs. Scarlet, and Professor Plum was senior Mitch Budke.
"For me, as an already dramatic person, I found it very easy to fill Mrs. Peacock's shoes! She was very very fun to act as and by far my favorite part was the scenes where Mrs. Peacock drinks from her flasks that she stored everywhere," Filinger said.
Along with how much fun the play was there were some difficulties like remembering their lines and their cues. Also making sure each actor was saying the correct lines and not mixing up their words on stage.
"The most difficult thing about the play is learning and memorizing lines," DeLong said. "My favorite part about the play is coming together with the people from my school that I wouldn't usually hang out with. This is honestly a time when people can be themselves and have fun. It's amazing to see how much we can accomplish in such a short amount of time. We have the most fun at play practice and that's where some of the best memories are made."
Approximately 280 attended the two performances over the weekend.
"I found it very entertaining and very fun to watch. It also made the crowd laugh," freshman Kiya Cahoone said.