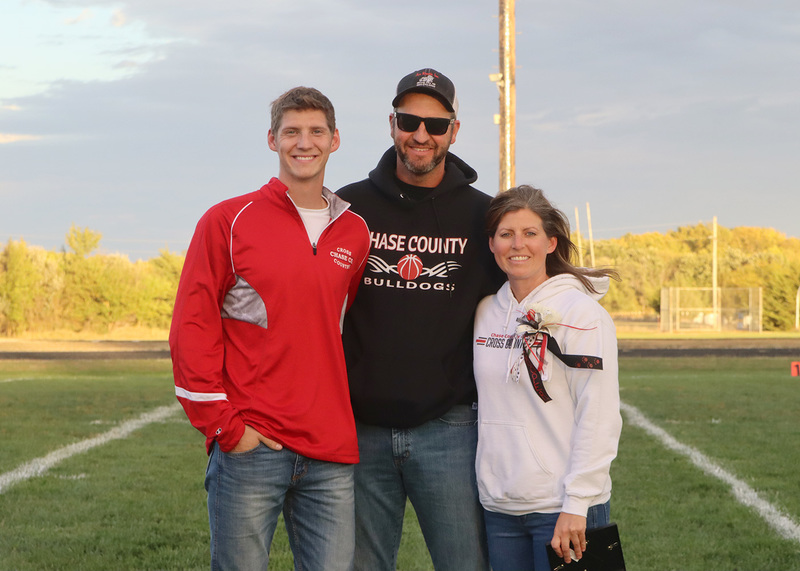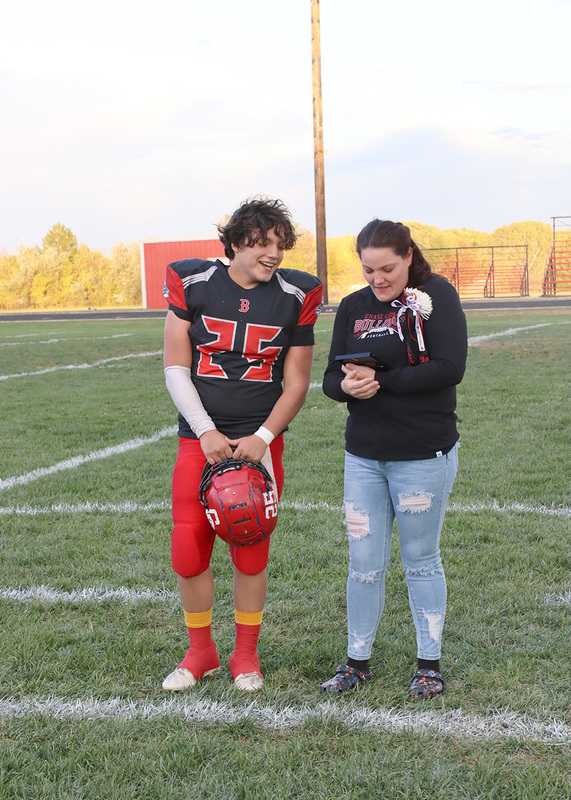 Parents' Night for football, cheerleading and cross country was held on Oct. 14, prior to the football team against Topeka - Cair Paravel.
There were three cross country runners, two cheerleaders, and seven football players honored, including their parents and coaches. The mothers and wives received corsage and each set of parents and coaches received a framed picture of their senior or team.
Seniors Leaya Francis, Cooper Schroer, and Taylor Palenske all started running cross country when they were sophomores.
"The reason I did cross country was because my freshman year in art class, Hugo Escobar and I made a deal that if I did cross country then he would bring me a donut. So every year I've done cross country, I've gotten a donut," Francis said.
Throughout the years Schroer has had many great memories from his cross country.
"One of my favorite memories was making it to state that all three years were all great memories for me. I especially loved competing at state for two years though," Schroer said. Although he qualified for state again this year, he was not able to participate due to a foot injury.
Seniors Ashlee Williams and Emily Miser have done cheer for all four years of high school.
"Honestly, during eighth grade when it came time for tryouts I didn't really want to cheer, but I made an agreement with Emily that if she tried out I would try out." Williams said. "I genuinely couldn't be more grateful for the simple agreement we made because without that I doubt I would have ever been a cheerleader and I wouldn't have found this sport I wholeheartedly love or even have been able to take the next steps as a collegiate cheerleader."
There are going to be many things they will miss about cheer.
"I'm going to miss actually cheering the most. I love cheering at games and pep rallies. I'm going to miss performing routines for pep rallies- they're always so fun. Performing is always rewarding because we get to show all of our hard work. I also built several friendships because of this sport," Miser said.
The cheerleading coaches, Stacia Barrett and Susan Koch, will miss both of the seniors.
"They have both had a hand in establishing the squad as a whole. Not only do they bring great leadership but they also bring a sense of togetherness. Both Emily and Ashlee know my expectations and execute," Barrett said. "I will miss THAT! They are also a joy to be around. I've grown to know them both on a personal level and it will be hard not having them around to bounce ideas off of. They are two very special kids for me. The squad and I will miss greatly! I'll be excited to see what's next for both of them!"
One of the seven seniors on the football team, Mitch Budke, will miss playing football here, but he is still going to continue the sport in college.
"I'm going to miss hanging out with my friends at practices the most, and I'm choosing to continue to play because I like football," Budke said
Football head coach Brody VanDegrift is going to miss having these seniors on the team.
"When Parents' Night hits it makes you realize that their journey is over. Football is a hard sport to end because they most likely will never put shoulder pads and helmets on again. You can always play a pick-up game of basketball or whatever, but playing football is different. I just hope they learned as much from me as I did from them," VanDegrift said.