Enrollment packets will be available for pickup starting on Tomorrow (Thursday) from 8 am to 4 pm in CCJSHS front door foyer area. They will be available on Friday, Monday, and both scheduled enrollment days. If possible, please pick up the packet prior to enrollment days. New student packets are also available. Enrollment is Tuesday 3-7 pm for last name A-K and Wednesday 7-11 am for last name L-Z.

Please read the attached school update.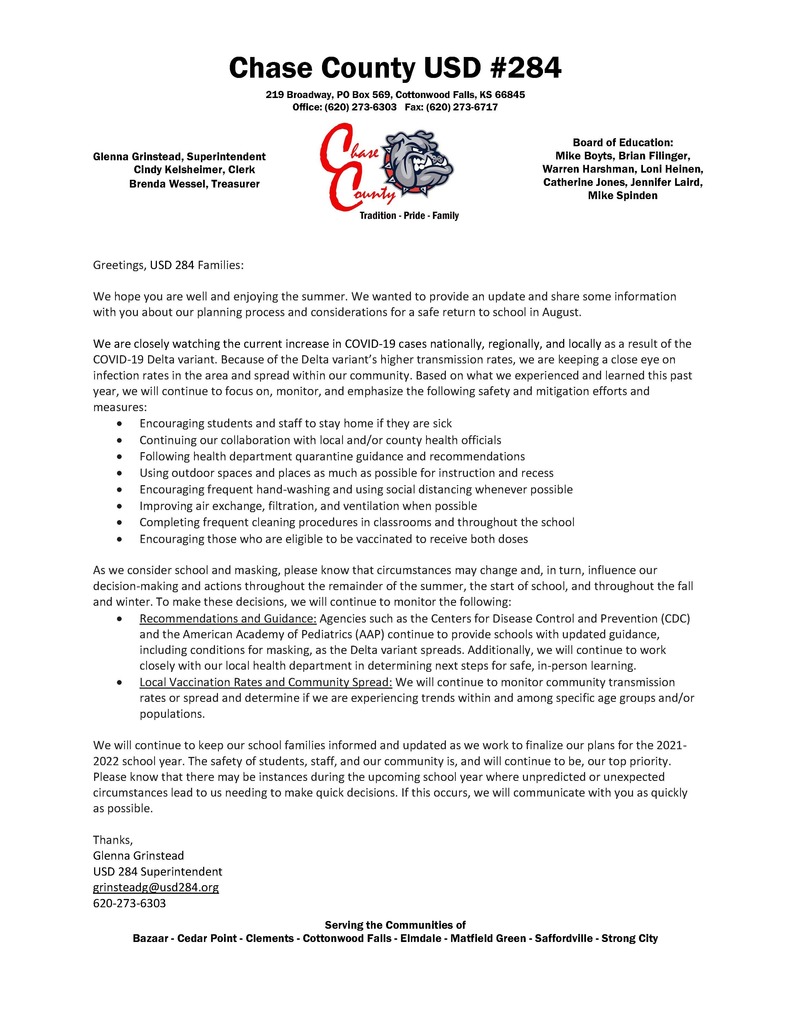 Due to field conditions the 5 on 5 in Burlingame has been canceled. We will send a message out later today about camp tonight. Thanks

Good Morning- Football Camp has been canceled for this evening. HS players will meet at CCJSHS tomorrow morning at 7am for 5 on 5 in Burlingame!

The USD 284 Calendar is not yet available in the paper format, but we are starting to type the information in digitally. The electronic version is available on the USD 284 app (available in Apple and Android versions) and on the website (
www.usd284.org
). The calendar is under EVENTS on both formats. Website - Look down towards the bottom of the home page or under Explore in the top right hand corner. App - Events are listed on the front page.

Football camp will start Monday junior high will be from 6/7 and high school will be from 6/8camp will end the 16th with a 5 on 5 tournament in Burlingame. Football coaches are excited to get this year rolling! Junior High boys basketball camp will also be the 12th - 15th from 8am - 9:30am in CCJSHS North Gym. Open to incoming 5th - 8th grade boys. Coach Happy and Coach Witte will be looking forward to working with you!

Summer Weights will start back on Wednesday July 7th. The 7th-12th Grade start at 7am. The 5th and 6th grade will start at 8:15am. Have a great 4th of July!

School Year 2021-22 Enrollment will be like it was last year with the family packets available on Aug. 5 at CCJSHS. Enrollment days are as follows: August 10 (Last name A-K) 1:00-7:00 pm August 11 (Last name L-Z) 7:00-11:00 am School starts August 19.

As USD 284 continues to look toward the future, the Board of Education passed the attached protocols to exit the COVID Reopening Plan that was implemented as school began this last year. This goes into effect today.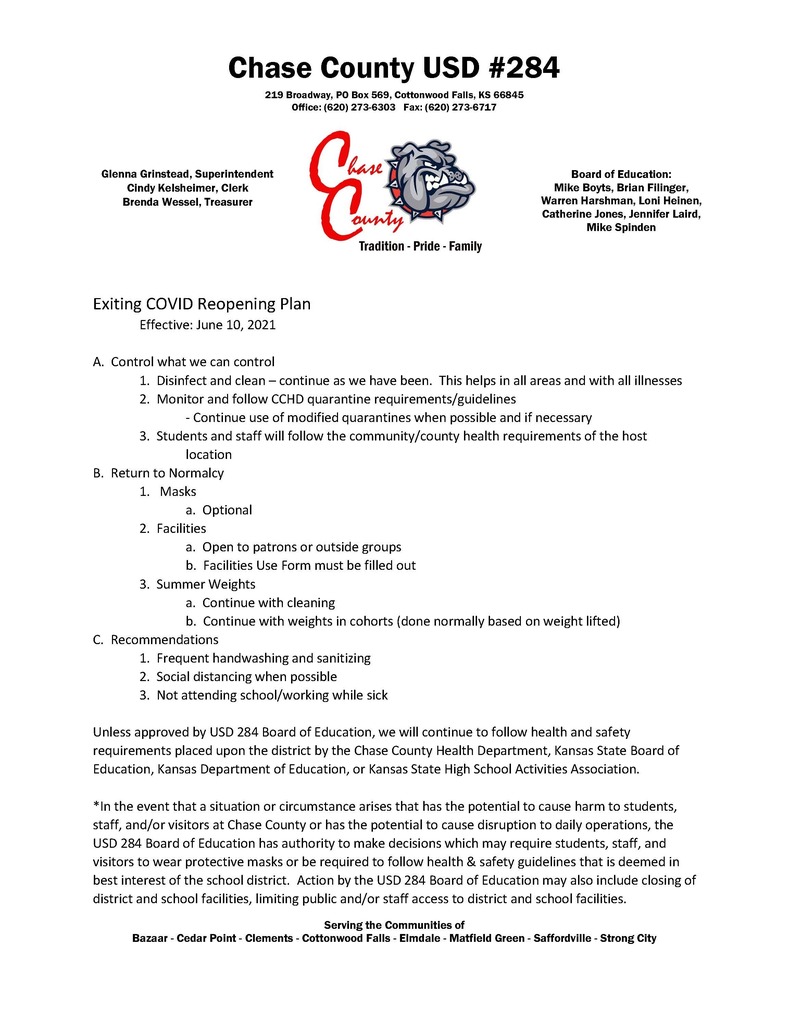 Summer weights will start tomorrow. Right now, the times are as follows: JH/HS will begin at 6:00 am 5th/6th will begin at 8:15 am This is for the class level the student will be enrolled in during the 2021-22 school year.

The boys 4x100 relay (Mitch Budke, Brock Griffin, Cal Kohlmeier, Tylon Ybarra) placed 5th in state.

Laura Koch made the podium, placing 8th in state pole vault. Congratulations, Laura.

Senior Britney Schroer places sixth in the State Javelin. Congratulations!!!

State track information: Admission is $9 for everyone - no student prices this year.  It was encouraged to purchase digital tickets before coming to the meet.  You can find digital tickets by going to kshsaa.org and choosing the athletic tab and track and field.  Then on the right you will see State Site Information and Live Results. If you go there, you will see a place to buy day 3 digital tickets as well as how to get to the live results page if anyone needs that. If you wait to buy tickets at the meet, you will only be able to purchase those on the west side.

State track for 2A and 1A is Saturday, May 29. Channel 9 (PBS) is broadcasting the meet. Good luck, Bulldogs!

The CCJSHS 9-12 Spring Sports Awards scheduled for tonight has been cancelled. Each spring sport will be doing their own assembly at a later time.

Unofficial Results from State Golf. Lathe Watkins finished 4th and Sophia Glanville finished 24th. Congratulations to both of you on a great year!

Update on State Golf happening in Tipton. After 9 holes Lathe Watkins is sitting in 1st and Sophia Glanville is in 25th. Good Luck on the back 9.

Good luck to our state golfers, Lathe Watkins and Sophia Glanville. They will compete in the state tournament tomorrow (Monday, May 24) in Tipton.

The CCJSHS track team has several athletes who qualified for the state track meet next Saturday. The boys team also finished the meet in second place. Congratulations to all the track team! Over the last two days we have had baseball, softball and track teams battling through rainy conditions, and they have all worked hard for success. So proud of our Bulldogs!