Just a quick reminder that we will NOT have school on Monday, Jan. 30.

PATHS is looking forward seeing you at the Donkey Basketball games tonight. The games will start at 7PM at CCJSHS! Come on out and have a great night! Tickets will be $10 at the door! (5 and under free)

Kansas Birthday Bash for young children hosted by Parents as Teachers and the Lyon Co. Historical Museum.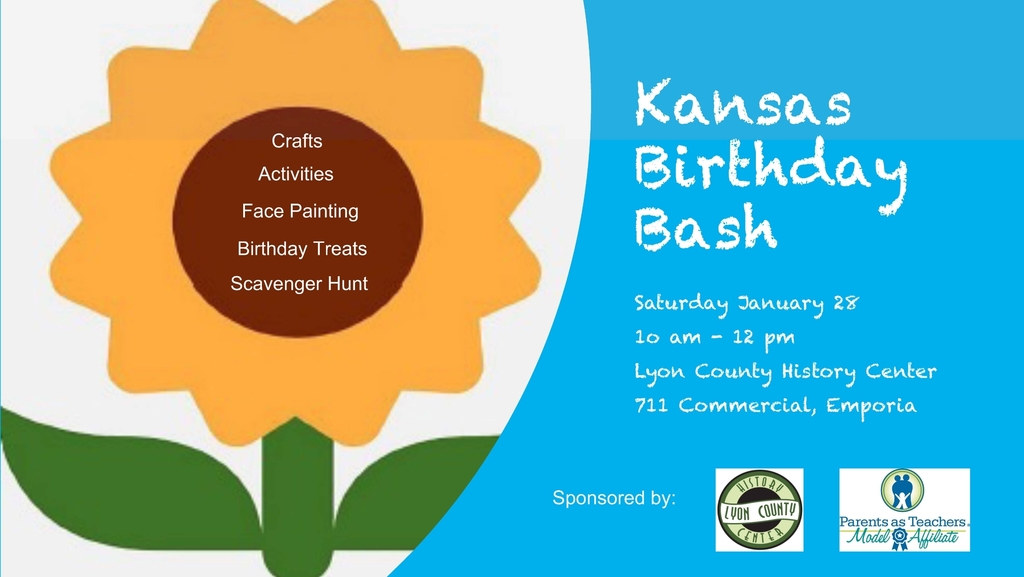 USD 284 will start school at NORMAL time today.

Good Morning- (Time Change) HS Basketball games against Peabody this evening. The games will be starting at 5PM with Girls Varsity followed by Boys Varsity. We will have Varsity Games only. PATHS will be selling tickets for Donkey Basketball at tonight's HS Basketball games. Advanced tickets will be on sale through the 26th or until sold out at Clarks, Schaffer Creek Outdoors, Citizens State Bank (Lobby Only) and Diekers. Advanced tickets are $8 (5 and under free). Tickets at the gate will be $10.

HS BB Update: The Peabody BB game will start at 6 pm on Tuesday, Jan. 24. We will NOT have any JV games.

HS Wrestling Update: The team traveled to Leon-Bluestem Tuesday evening. Kinzie Rogers 3-0, defeated Patterson of McPherson who is 6th ranked at 110 lbs. Micah Cauthers with 2 more first period pins. Micah is now 18-5 with 16 pins on the season. Other results include: Caleb Dexter went 1-1. Luke Budke was 2-0. CJ Mitchell went 0-2. Reece Budke, Taylor Palenske, and Brock Griffin all went 2-1. Cal Kohlmeier was 1-2. Samantha Mitchel and Dana Maddox went 0-3, and Lexi Taylor went 0-2.

HS Boys BB Update: Updated bracket. The boys will play Friday @ 6 pm.

HS Girls BB Update: Updated bracket for the Girls Flint Hills Shoot Out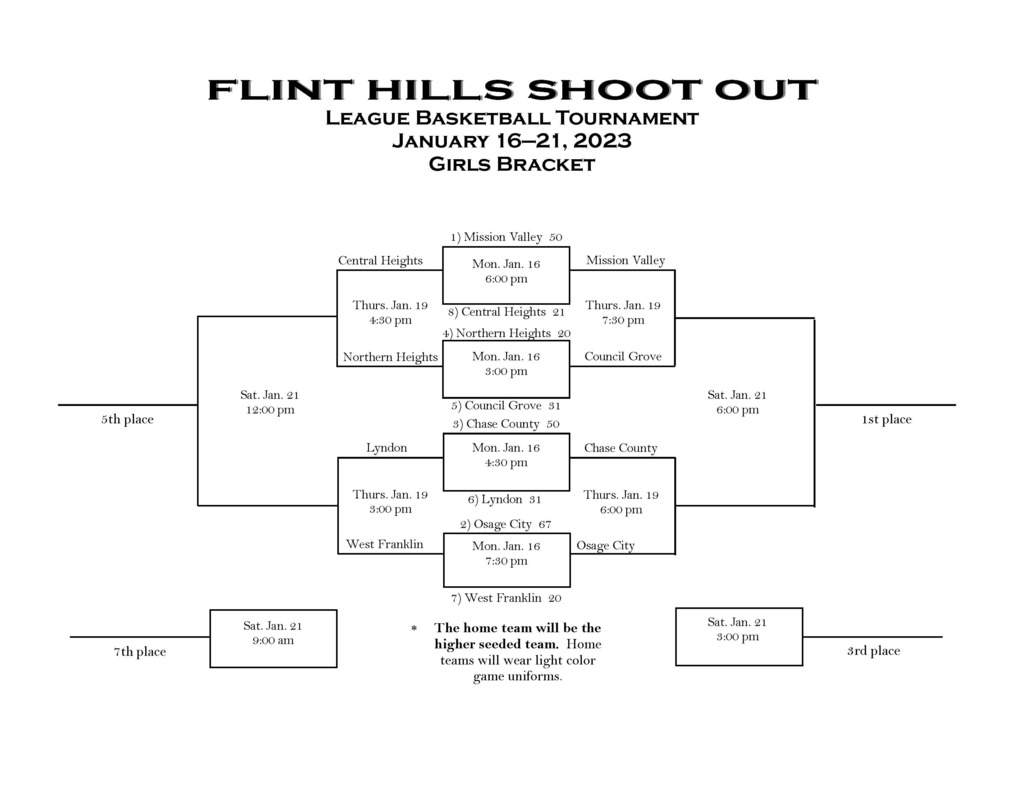 Good Morning- Flint Hills Shoot Out is next week! Girls will play Monday the 16th at 4:30PM Boys will play Tuesday the 17th at 7:30PM All games are played at W.L. White Arena | Civic Auditorium in Emporia, KS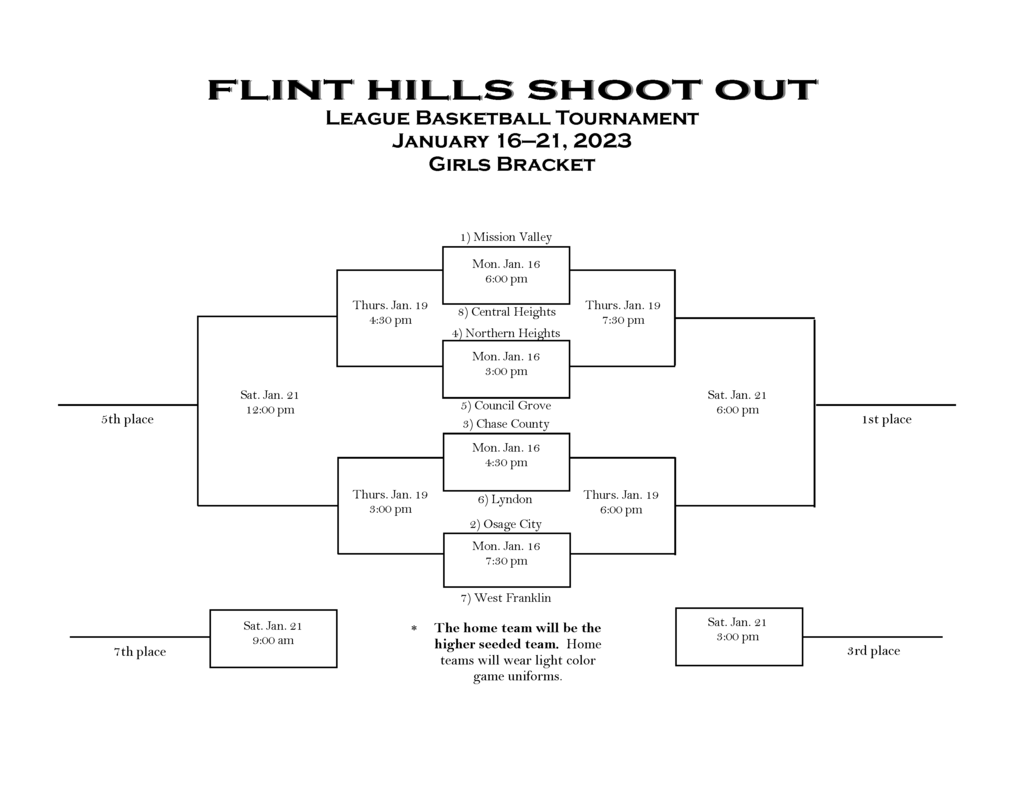 We will NOT be having school on Monday, January 16.

JH League BB Tournament Update: The times for the SATURDAY games have changed. Start time was moved to 9 am rather than 8 am. Please see attached.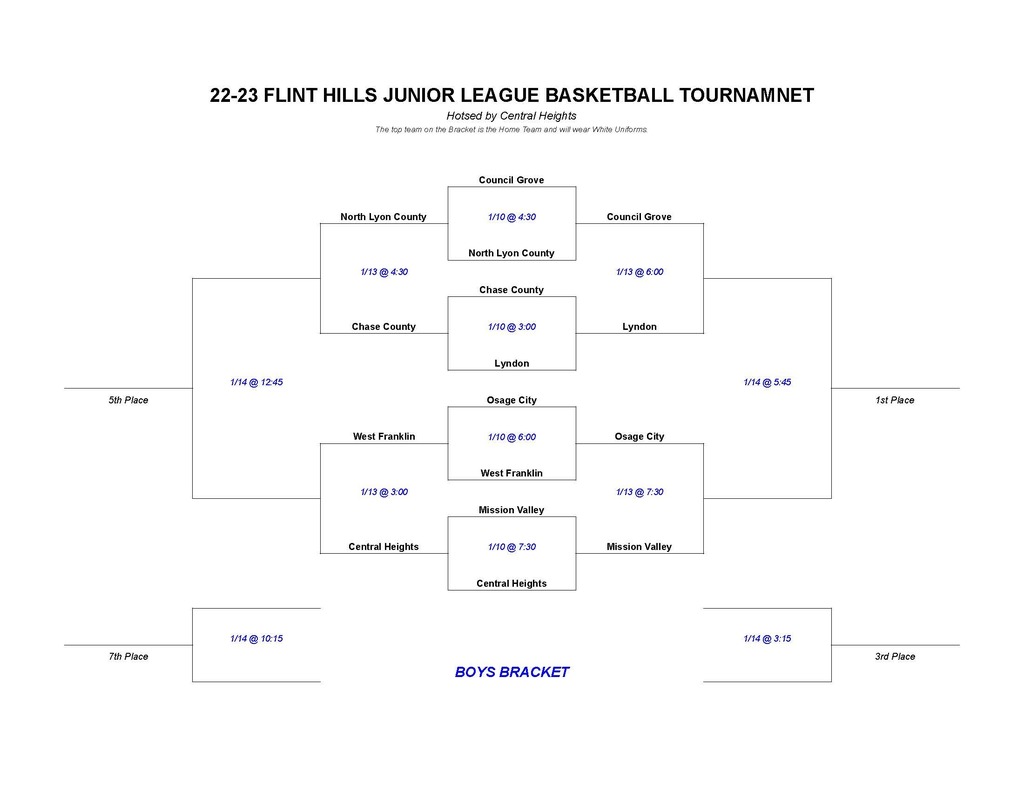 JH Boys Basketball Tournament Update: The updated bracket with last night's (Tuesday) game results is available.

Advanced tickets are on sale now for Donkey Basketball! Advanced tickets will be sold though January 24th at Clarks, Schaffer Creek Outdoors (feed store), Citizens State bank (Lobby only) and Diekers. Advanced tickets are $8 (5 and under are free). The Games will be on Friday, January 27th at 7PM (CCJSHS North GYM). This event is sponsored by P.A.T.H.S.

HS Basketball Update: The HS BB game vs. Osage City tonight (Tuesday, Jan. 10) is the game of the week for Country 101.7 if you would like to listen. The games will be live streamed on the Osage City Youtube channel and on the NFHS network. The link to the Youtube channel is linked below. Please remember the NFHS Network requires a subscription.
https://www.youtube.com/watch?v=CFRcnxCIqns

JH League Basketball Update: An updated bracket with the correct times for both boys and girls is attached.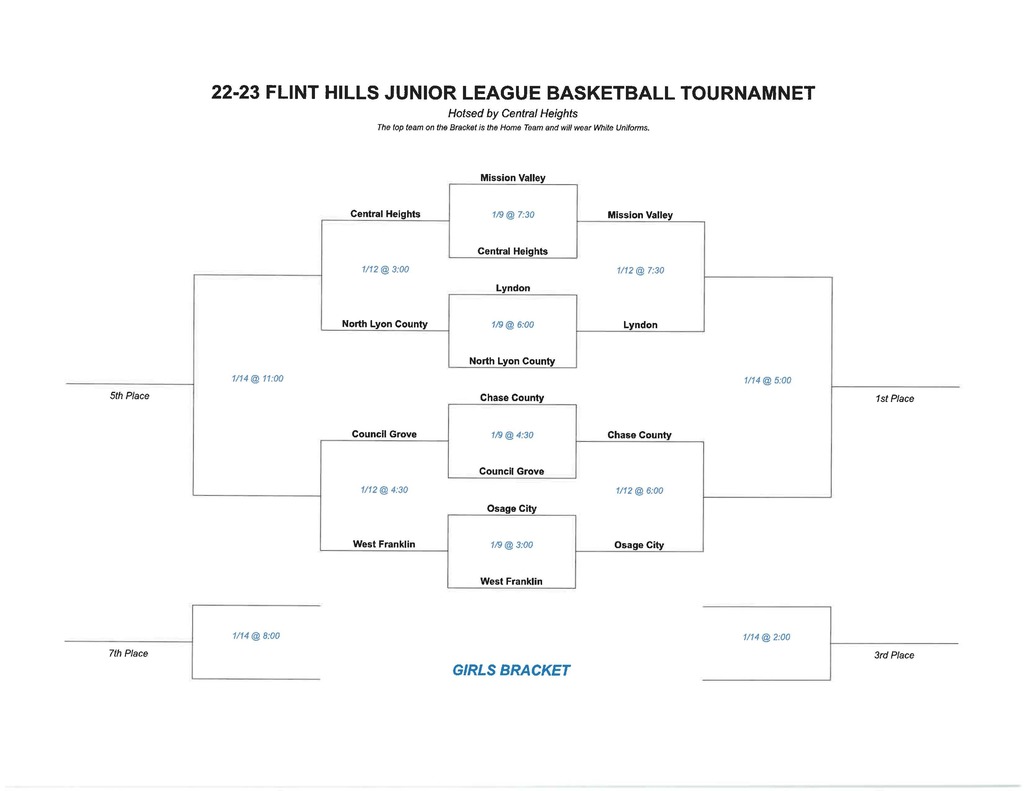 HS Basketball Update: The Flint Hills Shootout is next week. We will not have the brackets until this weekend. We will post them online - USD 284 website under the Live Feed, on the app under Feed, and on the USD 284 Facebook page.

HS Wrestling Calendar Addition Tuesday, Jan 17 - HS Wrestling @ Leon-Bluestem for a jamboree. 3:00 pm start time.

Calendar Correction: We will have school on Monday, Feb. 6 even though the calendar states no school. That is an error. School will be in session Feb. 6