Regional Softball Admission will be $6. Streaming: The game will be live streamed on the Bluestem USD 205 Schools Facebook page.

Regional Track will be held on THURSDAY, May 20 at Pleasanton High School.

Music teacher Ashley Welsh is working to set up for the music program while Mr. Pena tests the drum.the music program will be outside around the lunch hour during Field Day.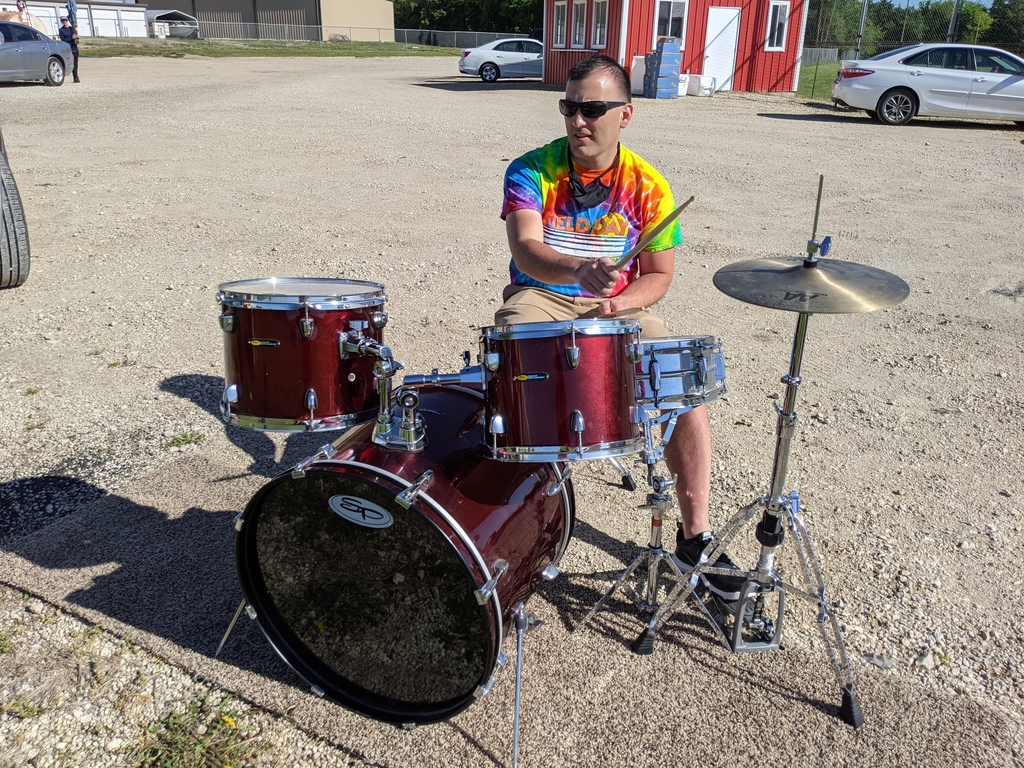 The CCHD is currently scheduling the Pfizer vaccination for persons 12-15 years old.  If you would like to get your student on the list, please contact the school health nurse or call the CCHD at 273-6676.  If you are still interested in your older students receiving the Pfizer vaccine, please contact the HD for an appointment. 

As we look ahead to the forecast, the decision has been made to DELAY the CCES Field Day until Thursday so the weather might be warmer with more sunshine. Field Day will be Thursday, May 13.


Graduation is Sunday, May 9 at 2 pm. Each student is allowed 20 guests, and names have been turned in to the office prior to graduation. We will be streaming the ceremony. A link will be posted on the Facebook page later.

The baseball team will be traveling to Admire to take on NLC on Tuesday, May 11. The game will start at 4:00 pm (TIME CHANGE).

The baseball team hosted Council Grove tonight, winning both games, 11-1 and 17-7. The softball team travel to Hutchinson to face Sublette on a neutral site. The Lady Bulldogs won, 11-1 and 18-7.

CCJSHS Fine Arts Night Wednesday, May 5: Art show will start at 6 pm with the music concert starting at 7 pm.

Congratulations to the forensics students who competed virtually in Champs and Festival competitions yesterday. Champs is a tournament with prelims, semifinals and finals with placings. Festival is a competition with ratings, allowing students to compete against themselves. In Champs, Laura Koch placed 5th in Inform 7 and Aidan Shaw finished 10th in Impromptu. Sophia Glanville competed in Poetry and Abby Jones in Extemp. Although Mayah Dorsey and Shaw qualified for IDA, they did not compete. For Festival, Paden Jahnke received a I rating in Extemp and Owen Eidman and Mitch Budke also received a I rating in IDA. Emily Miser was not able to participate in Inform 7. Great job Bulldogs!!

As we wind down the days of an adventurous year, please continue to be diligent when monitoring students and family members for signs and symptoms of COVID especially now during allergy season. If students have a new onset of symptoms, they should not be in the buildings. If household members are showing signs of illness and/or testing for COVID, we strongly encourage that those affected students not be in the buildings. The Return-to-School Protocol should continue to be followed. We are so close to the end and have A LOT of fun days ahead, we don't want to see any of our students missing out! Please feel free to contact the school nurse or building principals with any questions or concerns. Thank you. -- Amber Schlup LPN USD #284 Chase County School Health Nurse

Softball FAN UPDATE: Monday, May 3: Chase County softball at Hutchinson (Fun Valley) vs. Sublette 4:30 pm. Monday, May 10: The Chase County softball team will be hosting Council Grove here at 4:30.

Baseball FAN UPDATE: Monday, May 3: The game against Lebo was cancelled. NOW, Chase County baseball will host Council Grove here at 4:30 pm.

FFA Members and Parents: FFA officer installment and year end review will be held in the auditorium on Wednesday April 28th at 6:30. No meal will be provided. Thank you.

The softball and baseball games with Council Grove scheduled for today have been postponed until a later date.

We have been asked to share that the health department currently has the Pfizer vaccine available. 16- and 17-year olds can receive the Pfizer vaccine. Anyone 18+ years old can receive either the Pfizer or the Moderna vaccine. Please contact Amber Schlup, school nurse, or the Chase County Health Department if you would like your student to receive the vaccine.

Calendar Changes Monday, April 26: JH Track at Osage City 10 am Thursday, April 29: HS SB/BsB @ Central Heights 4:30 pm (changed from Friday) Friday, April 30: JH Track at Burlington was cancelled. HS JV Golf at Lyndon was cancelled. Monday, May 3: HS SB/BsB at Lebo was cancelled. HS SB @ Hutchinson (Fun Valley) vs. Sublette 4:30 pm.