Parents' Night for Volleyball will be held tonight in the north gym before the last varsity game against Northern Heights.

We have a change on Wednesday's Board of Education meeting. The meeting will start at 6:00 pm at CCES for a facilities tour. We will reconvene at 7 pm in the Board Office.

Don't forget that we don't have school on Monday, October 10 due to a staff professional development day.

USD 284 Chase County received the following recognitions for the Kansas State Board of Education as part of the 2022 Kansans Can Star Recognition Awards Program: Graduation - Gold Star Postsecondary Effectiveness - Silver star Commissioner's Award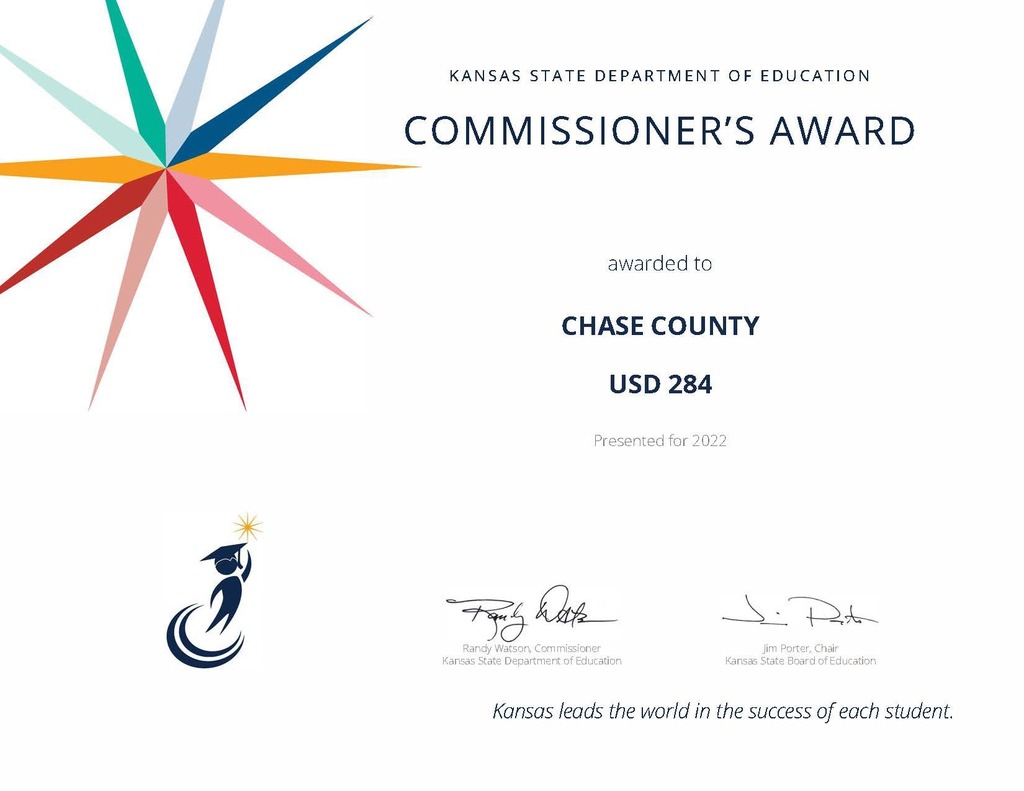 Help us in spreading the word about a new mobile app aimed at suicide prevention. This app is in collaboration with the Jason Foundation. The app can be downloaded for free from both the Google Play Store and the Apple App Store. It can also be accessed through the youth suicide prevention website
www.ag.ks.gov/asKS
.

Cross Country ran at Osage City yesterday. Three Personal Records were set: Tate Morgan with a time of 19:03, Bryson Koch 20:20. Red Schechter set a two mile PR of 16:39. Cooper Schroer medaled 12th with a time of 18:12.

The Lady Bulldogs are headed home with varsity and JV wins over Madison. Nice job, ladies!

Flu shot will be October 18, not the 8th as with iriginal post and email stated.

Tomorrow (Wednesday, Oct. 5) is our first ever Career Day. Please wear comfortable clothes and shoes. The CCES students will be at the airport in the morning and at CCJSHS in the afternoon. The CCJSSH students will be in their building in the morning and the airport in the afternoon.

The high school volleyball team took two teams to the Flinthills JV Tournament. Chase County 1 won third place! Congrats, ladies!

We just found out the JH football game actually starts at 6 pm today. The team will be leaving at 3:20. Sorry for the late notice. Please help us spread the word.

Calendar Changes: HS JV Football @ Burlingame on Monday, Sept. 26: The start time has been changed to 5 pm instead of 6 pm. CCES and CCJSHS SITE Council meetings moved to Wednesday, Oct 5 instead of Wednesday, Sept. 28. CCES - 5 pm, CCJSHS - 6 pm. Any parents interested in serving on the SITE Councils, please attend the meetings.

USD 284 Chase County is currently accepting applications to fill the junior high girls basketball assistant coach position. Questions and letters of interest can be sent to Coach Weiss at CCJSHS.
weissa@usd284.org

REMINDER: Dental Screenings are tomorrow, Wednesday, September 21! Forms have been sent home with all students last week. Extra forms (to opt-out or receive fluoride treatment for your student) are at the CCES or CCJSHS office. You may also contact
schlupa@usd284.org
! Thank You!

Good afternoon- 4th-6th grade football practice will be from 6pm to 7pm tonight. Players will be in helmets, shorts and T-shirt due to heat. Note only 1hr long practice due to the heat. Thank you, Coach V

The JV HS Fiotball team beat Goessel 50-0 yhis evening.

Please turn in your Chase County High School Cheer apparel order by Tuesday, Sept. 20. Thank you for supporting the CCJSHS Cheer Squad.

Good Afternoon- The boil advisory for Chase County has been lifted. Have a great weekend!

Dental Screening forms are in the mail. THIS IS ONLY A SCREENING, required to be offered by the state of Kansas. Please return forms to the office by Wednesday, September 21st! Contact
schlupa@usd284.org
with any questions or concerns. Extra forms are in the office. Thanks!