The FFA banquet will NOT be held on Wednesday, April 27. It will be rescheduled on a later date.

Jennifer Laid has resigned her position as a USD 284 Board of Education Member for District 1 following the May meeting. The USD 284 needs to appoint another person to take her position for the rest of her term starting June 8, 2022. If anyone who lives in District 1 (Cottonwood Falls) is interested, please come by the district office and pick up an application as soon as possible. The Board is hoping to appoint someone during the May 11, 2022 meeting. The position will remain open until filled.


KU vs. WSU is cancelled. Yes, I'm as disappointed as you are. They had to cancel since KU could not make it. We are trying to schedule a date for next year.

Just a quick reminder that we will be having school on Monday, April 18. Enjoy your weekend.

PUBLIC NOTICE Notice is hereby given pursuant to the provisions of K.S.A. 25-2022 of a vacancy in the membership of the Board of Education of Unified School District No. 284, Chase County, Kansas, and that such vacancy will be filled by appointment of the Board of Education not sooner than fifteen (15) days following publication of this notice. The appointed member will serve the remainder of the unexpired term in this position. Such vacancy exists by reasons of the resignation of Jennifer Laird, who represented board member district 1. Applicants must reside in this member district. By order of the Board of Education, Unified School District No. 284, Chase County, Kansas, this 14th day of April, 2022 Cindy Kelsheimer Clerk, Board of Education If interested in serving on the USD 284 Board of Education in this position, please pick up an application at the District Office. If you have questions, please contact Cindy or Glenna Grinstead.

We will be having our District SITE Council Meeting in the District Office on Wednesday, April 20 @ 6 pm. If you would like to join our SITE Council, please plan to attend the meeting!!

Schedule Change: Friday, April 29 - The JV Softball and Baseball games at Central Heights (not on calendar) have been cancelled. Instead, the softball and baseball teams will be traveling to Osage City to play with a 4:30 start time. This is the makeup game for the Osage City games that were cancelled due to weather.

We will not be able to attend the junior high track meet on Tuesday, April 19 at Lyndon. There is a limit to the number of junior high meets we can attend, and we chose to host a meet instead of attending the Lyndon meet.

Brenda Wessel said it best: A big shout out to all the workers, coaches, staff, and CCJSHS students who did a fantastic job working at our JH Track Meet today! We couldn't have pulled this event off without all of you! Your help was greatly appreciated! Thank you so much!!

We will not be printing rosters for the baseball and softball games. The baseball and softball rosters for Chase County are available here.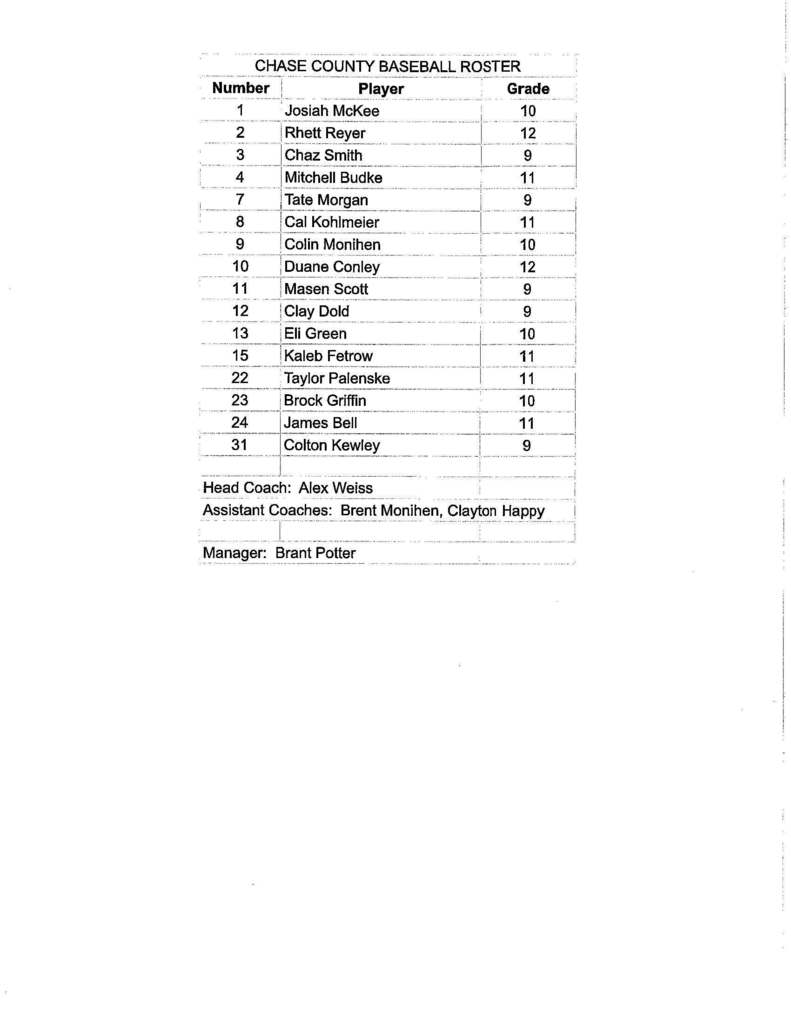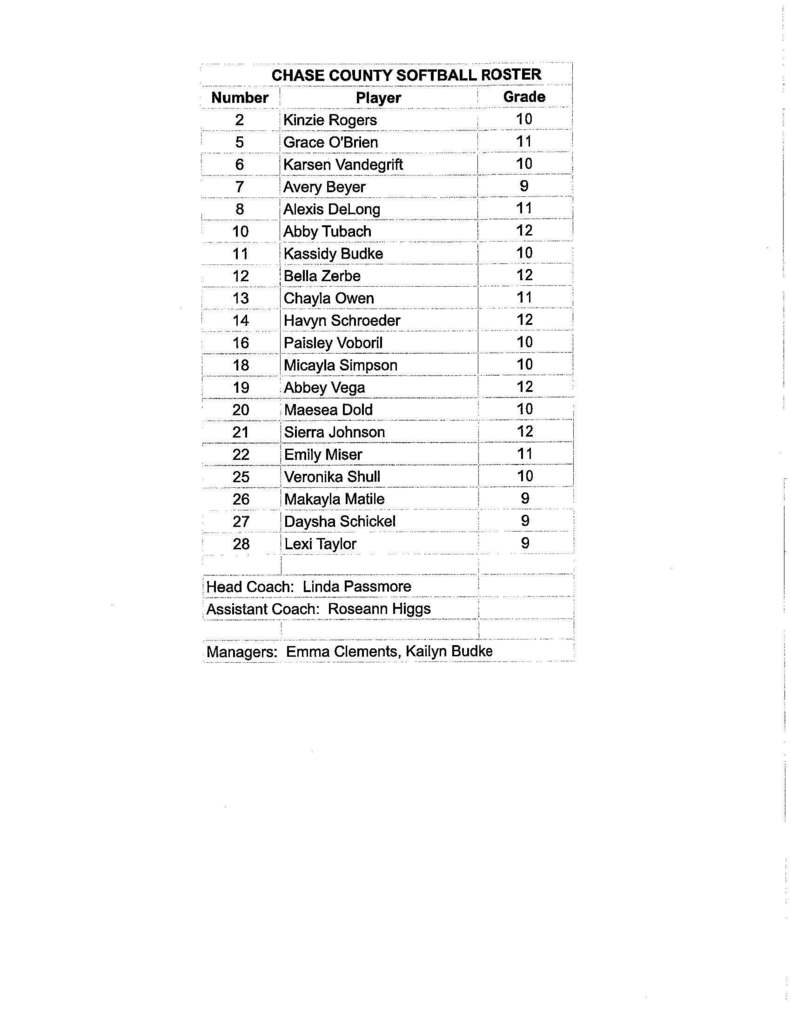 Due to the forecasted weather for tomorrow we have modified start times. The home JH track meet will be starting at 11am. The home softball/baseball games will be starting at 3pm. Thank you!

Due to a scheduling conflict with one of the schools, the KU and WSU scrimmage will be moving to Wednesday, April 20 with a 7:00 pm start time. The community is welcome to attend.

Due to the forecasted weather, tomorrow's (Tuesday, April12) softball and baseball games vs. Northern Heights here will start at 3:00 pm.

Nora Budke got a I on her flute solo. Sophia Glanville and Abbey Vega got I's on their vocal solos! Sophia Glanville got a II on her trombone solo. Nora, Abbey and Sophia are going to state music!!!

On Monday, April 18 at 5:30 pm, Kansas University and Wichita State University volleyball teams will be scrimmaging in the south gym at CCJSHS. The public is welcome to come watch. What an opportunity to watch some college volleyball in Chase County!

Here is Address for Softball and Baseball tonight. 3164 California Terrace Pomona, KS 66067

Abrielle Zuniga-Peres was awarded a Hagan Scholarship to attend the University of Kansas. The Hagan Scholarship is a nationwide scholarship designed to help high achieving students graduate college debt-free. The scholarship provides up to $6,000 each semester for up to eight consecutive semesters. The scholarship also provides recipients with a practical understanding of important life skills not typically covered in the school curriculum via free workshops, Schwab brokerage accounts ,and study abroad. Hagan Scholars currently attend colleges and universities located in 47 states. Congratulations, Abby!

Good luck to Nora Budke, Sophia Glanville, and Abbey Vega as they head to the Regionals Music Festival in Hillsboro on Saturday!

The Flint Hills League Art Show was hosted on Monday April 4th at Mission Valley. We had about several students enter their artwork into the show. Here are the results: PASTEL 3rd & Honorable Mention- Chayla Owen PENCIL Honorable Mention- Bella Zerbe ACRYLIC / OIL PAINTING 1st & 3rd Place- Ryleigh G Honorable Mention- Mackenzie Collins PHOTOGRAPHY 1st & 2nd -Kaylee Simpson CERAMICS WHEEL-THROWN 3rd & Honorable Mention - Savanna Evans Honorable Mention- Makayla Zirkel SCULPTURE (wood, plaster, metal, found object) 2nd - Trenna Dold 3rd- Kaylee Simpson Honorable Mention- Samantha Mitchell