Would you like to be a para at USD 284?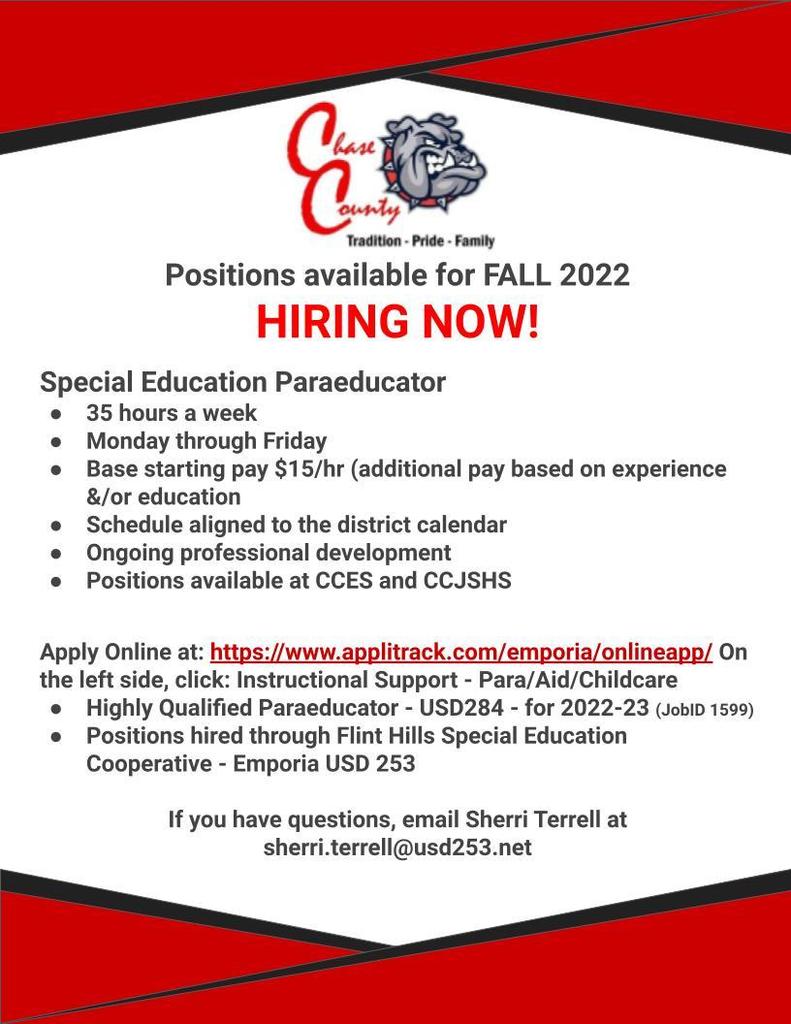 CCJSHS Volleyball Camp Students Grade Level for 2022-23 School Year Grades 9th-12th : June 20th-24th from 8am to 9:45am Grades 7th and 8th : June 20th-24th from 10am to 11:15am Grades 4th-6th : June 20th-22nd from 11:30am to 12:15pm Location : CCJSHS South Gym

CCJSHS Cook Opening Chase County USD #284 has an opening for a Cook at Chase County Junior/Senior High School. 6 to 8 hours per day. Start date is August 15. Salary will depend on experience/training. Benefits available. Please contact
cindyk@usd284.org
or
www.usd284.org
for an application. Position open until filled. EOE

USD 284 Employment Openings USD 284 is accepting applications for a maintenance/custodial position and for a cook at CCJSHS. Check out the listings on the school website at
https://www.usd284.org/page/employment
.

JH football camp will be held July 11-15 immediately following morning weights. Additional information will be sent out the last week of June.

School meals for the 2022-2023 school year will no longer be free for all students. Congress did not extend the federal school meal waiver to provide free meals to all students for the upcoming school year. Families will need to complete the application for free/reduced meals, and if qualifying, will obtain the level of meal pricing. Families who do not meet the income qualifications will have to pay full price which is currently $2.25 for breakfast and $2.55 for lunch for the PreK-6 levels and $2.35 for breakfast and $2.65 for lunch for the 7-12 levels. We wanted to provide this update after two years of free meals for everyone. Unfortunately, this will not continue into the 2022-2023 school year and we wanted families to have ample lead time to plan. The application and new income guidelines will be available after July 1, 2022 and will be part of the enrollment packets. If anything changes prior to enrollment, we will let you know.

High school football camp is tonight from 6-8:00 pm. Helmets will be at the field.

Summer Weights: Due to gym access, rain forecast and possible flooding, the following schedule changes have been made for Monday and Tuesday. Should flooding take place, information will be sent out. 7-8:00 am for men (Grades 7-12) 8-9:00 am for women (Grades 7-12) 5th and 6th grade will start on 6/13 at 8:30-9:30 am

Rodeo Weekend is here and what better time to give a shout out to some of our students who rodeo. Over the years, we have had several high school students participate in the Kansas High School Rodeo Association, and many have qualified for the National Finals. This year we have four students who qualified for the finals in Gillette, WY: Alexis "Boots" Hatcher in cutting, Makayla Matile in barrel racing, Pax Vogel in calf roping, and Jake Sollner in trap shooting. Congratulations!!!

Maintenance/Custodial Position USD #284 is accepting applications for a maintenance/custodial position based at Chase County Junior/Senior High School. Pay is based on experience and any licenses held (not required). 12 month full-time position. Paid holidays off. Vacation time. Submit Classified Employee Application to
cindyk@usd284.org
or drop off at the district office. Contact Cindy with any questions and to receive an application. 620-273-6303. Position open until filled. EOE


State Track Final Results Boys 4x100 Relay - Third Place Boys 800 M - Cooper Schroer Second Place Congratulations!!!!! Bulldog Proud!

Brian, Brianna, and Brylee Potter will be taking part in the ceremonial first pitch at State 2-1A Softball before the championship game on Friday, May 27. This is part of KSHSAA's celebration recognizing Title IX, girls sports, and state softball. Congratulations, Coach Potter!

KSHSAA Track and Field Schedule: Chase County athletes will be competing in the highlighted events. Please notice the Prelims for many of the running events are Friday and the Finals are Saturday. Some running events do not have prelims. The event is at Cessna Stadium (3301 E 21st, Wichita). Admission is $9 for adults and $7 for students. Tickets can be purchased online form GoFan Digital Ticketing (link on KSHSAA State Track and Field Page). Spectators are not allowed to bring in coolers or outside food/drink. Fans are not permitted to bring in backpacks and/or large totes. Diaper bags and purses are permitted.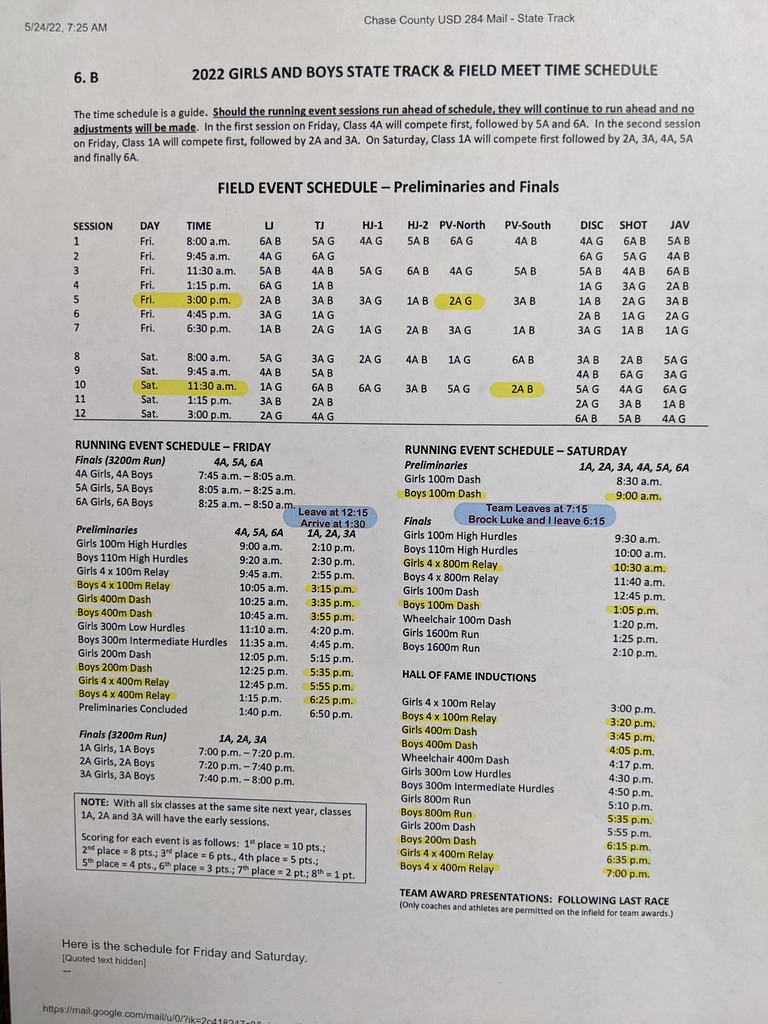 Changes for golf They are moving the tee time for tomorrow back to 11am. Updated Schedule will be: 10:30 a.m. - Coaches' Meeting 10:45 a.m. - Marker Meeting 10: 55 a.m. - Spectator Meeting 11:00 a.m. - Tee Time Golfers may begin driving range practice at any time. Chipping and putting are available on holes 6, 9, & 1.

Greetings Chase County Families: We are very excited to share with you an opportunity for your children and your family to experience over 80 Kansas attractions, educational activities, and fun events at no cost from May 28th through August 14th. "Sunflower Summer" is in its second year and is a program that was developed by the Kansas State Department of Education (KSDE) for families to have fun and experience as many of the participating Kansas locations as possible during the summer. Please visit
http://sunflowersummer.org/
to learn more about this year's expanded programming options by watching the short video and reviewing the "Participating Locations" section of the page. Attractions, activities, and events from across Kansas include zoos, museums, historic landmarks, libraries, day camps, outdoor events, and more. The updated App for iPhone and Android will be available to download by May 28th to your phone or tablet. Anyone who kept the app on their device from last summer does not need to download it again; instead, they will receive an electronic notice to simply update their app to the 2022 version. An adult will need to register their family members and include their county and school district. Then, families may begin planning their summer fun and acquiring free venue tickets as needed using the app and all of its features! Thank you for your time and consideration, and we hope you have a great summer! Sincerely, Glenna Grinstead

The HS Baseball game has been moved up to 1:00 pm today. They are working to get all the regional games played today before the rain moves in.

Chase County Rec Fishing Derby registration forms are due this Thursday, May 19. No late entries accepted. Drop off at USD 284 Board Office. Thank you!

Keep It a Safe Summer The event will be held in person this year at the Lyon County Fairgrounds. There will be a free 2K fun run for kids! A 5K will be $10 and is open to all. There will be many free, fun activities including a petting zoo. Prizes will be given and the first 1000 kids will receive a free bike helmet or disc golf disc.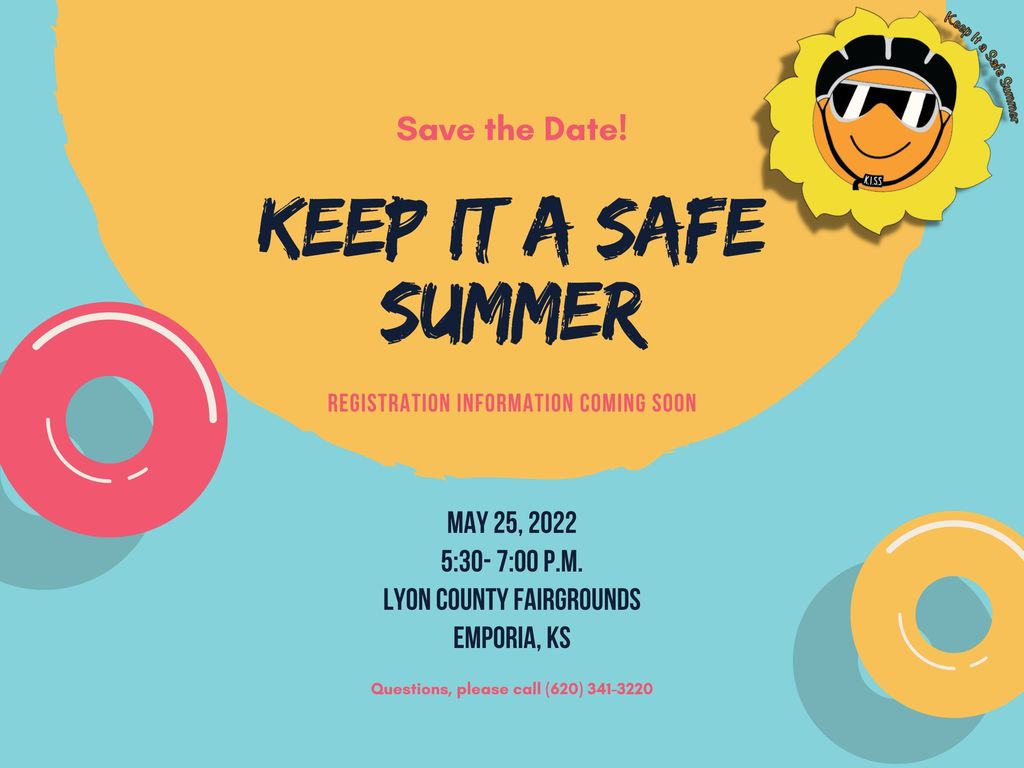 USD 284 is accepting applications for a CCJSHS Agriculture teacher and FFA sponsor. Please contact Cindy at 620-273-6303 or
cindyk@usd284.org
with questions.