HS Baseball Regionals will be played in Alma. McKnight Park, 28565 K99 Hwy, Alma

HS Baseball Regionals in Alma on Tuesday, May 17 at 2:00 pm. The boys play in Game 1.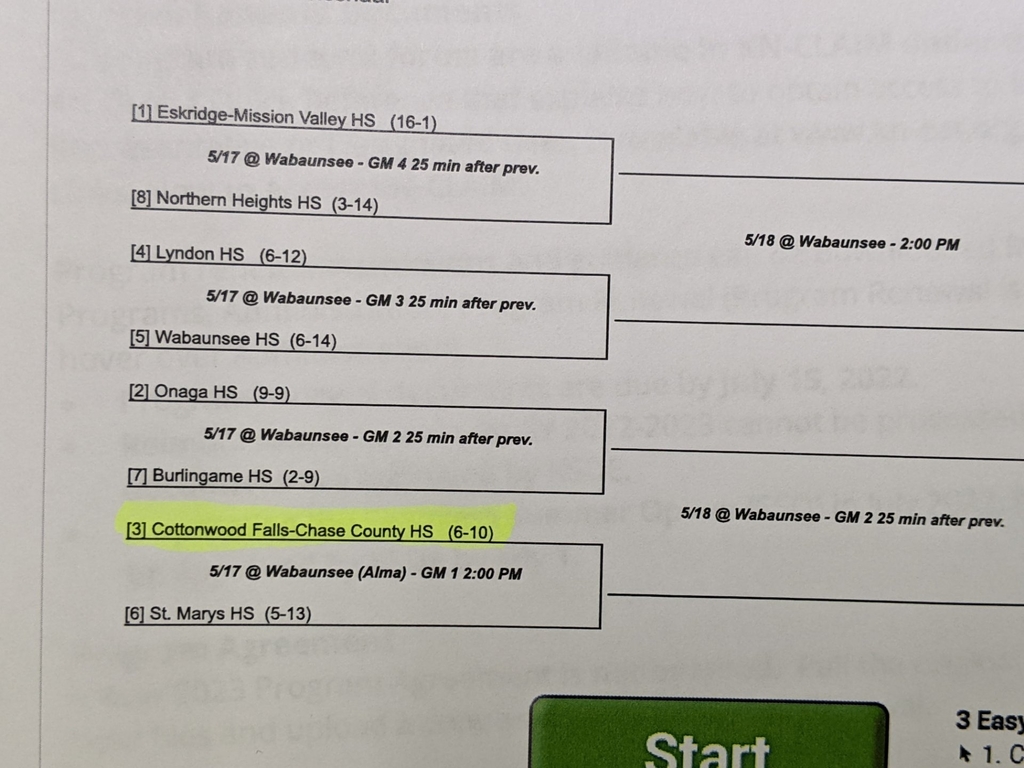 Softball Regionals at Marion Monday, May 16. The girls will play game two which is around 3:30 or 25 minutes after thr first game ends.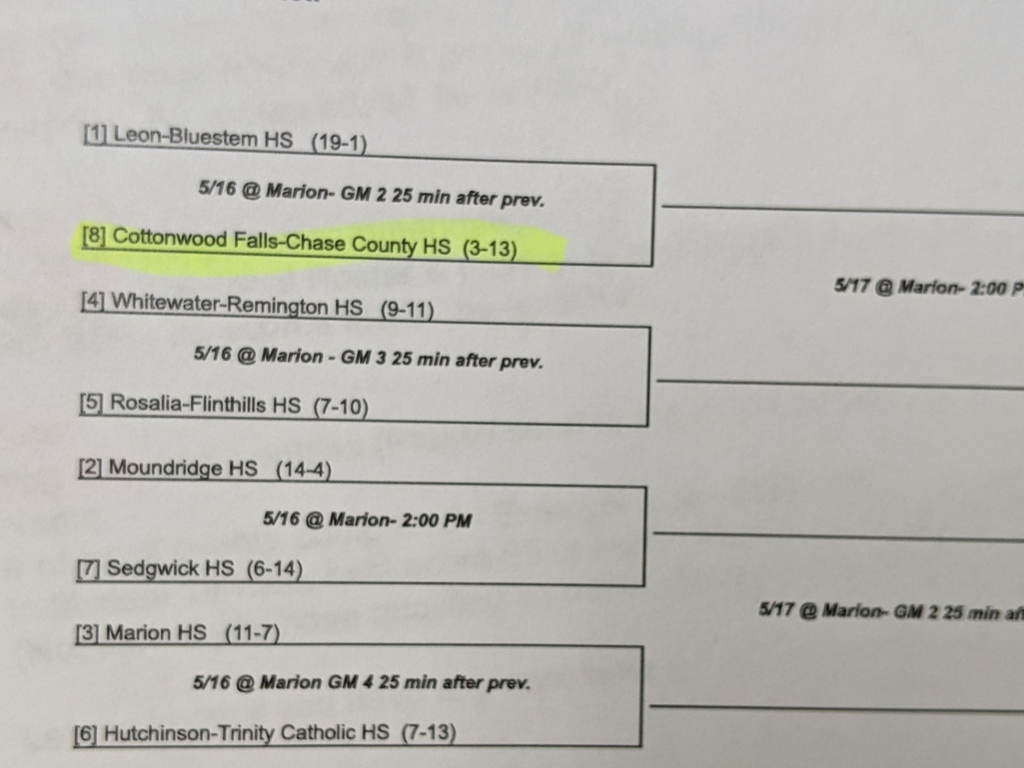 Tomorrow is Field Day. Please remember to have your student wear his/her field day shirt and tennis shoes. There will be a water station available, but please send or have a water bottle for your student. Sunscreen is also highly recommended.

I am sorry for the late notice, but we were struggling to find umpires. We will be hosting a baseball game today at 4:30 vs. Colony-Crest. The game will be here.

SOFTBALL SCHEDULE CHANGE: HS Softball will play in Lyndon on Tuesday, May 10 (TOMORROW) at 4:30 pm.

The Sports Physical date of May 11th is now full! If you are interested in having your student(s) receive a sports physical for the 22-23 school year, please notify Amber Schlup,
schlupa@usd284.org
, as we will hold another evening date on May 18th (if the need is there!). Contact Amber with any questions! If you have already replied, Amber will be contacting you! Thanks!

Due to water standing in the field, the baseball and softball games at Emporia's Trussler Sports Complex vs. Olpe are cancelled. The Herington Track Meet is still scheduled for today at 3:30.

Weather permitting, HS softball and baseball will play Olpe at the Trussler Sports Complex starting at 4:30 pm tomorrow (Friday, May 6).

Carol Coirier and Amber Schlup will be hosting an after hours clinic to do sports physicals for the upcoming 2022-2023 school year! May 11th, beginning at 6:30 pm, the Chase County Family Health Center will be open to all students needing a sports physical for fall, winter, and spring sports, as well as cheer and dance participants. The cost is $15, no insurance accepted. Depending on the number of interested students, we may need to add an additional date, so PLEASE respond to
schlupa@usd284.org
ASAP if you plan to attend. Contact Amber Schlup if you have any questions.

Today's (Thursday, May 5) softball and baseball games vs. Lyndon have been cancelled. We are working to schedule some games prior to regionals. We will keep you posted.

HS Golf that was scheduled for Thursday, May 5 @ Leonardville has been moved to Monday, May 16.

The HS track meet at Herington scheduled for Thursday, May 5 has been moved to Friday, May 6 at 3:30 pm. At this time we do not know anything about baseball, softball, and golf that is scheduled for tomorrow.

Chase County Elementary School has an opening for a full time custodian. 12- month position. Applications available at USD #284 Board Office or email
cindyk@usd284.org
. Salary will be determined by skill and experience. EOE. Position open until filled.

Jennifer Laid has resigned her position as a USD 284 Board of Education Member for District 1 following the May meeting. The USD 284 needs to appoint another person to take her position for the rest of her term starting June 8, 2022. If anyone who lives in District 1 (Cottonwood Falls) is interested, please come by the district office and pick up an application as soon as possible. The Board is hoping to appoint someone during the May 11, 2022 meeting. The position will remain open until filled.

Due to the wet forecast for tomorrow, CCES will be postponing Field Day and K-6 Music concert to the rain out date of Wednesday, May 11. We apologize for the inconvenience! This means that lunch menu options for CCES will be adjusted as follows: Wednesday, May 4, will be chicken day. Next Wednesday, May 11, will be hot dogs. CCJSHS lunch menus will remain the same (May 4 = hot dogs, May 11 = chicken). Finally, tomorrow's annual "CCES Bike to School Day" sponsored by the City of Strong City has been cancelled. It will not be rescheduled.

Good Afternoon- The Baseball and Softball games have been canceled for tonight. Monday May 2, 2022!

Any Senior parent interested in helping decorate for graduation, please come to the High School on Friday at 3 pm!

Regional Assignments and Calendar Changes: Softball - Marion on May 16 and 17 Baseball - Alma/Wabaunsee on May 17 and 18 Track - Lyndon on May 19 @ 3 pm

Thursday, April 28 the CCJSHS music department will be hosting the 7-12 Spring Concert at 7 pm. The art department will also have student art on display prior to the program. We look forward to seeing you there!