Good Evening- There will be no speed camp on Monday 4/17/2023!! Thank you, Coaches

Results from Regionals Music: Senior Ashlee Williams- 2 Sophomore Luke Budke- 2 Sophomore Connor Jahnke- 1 Freshman Valeria Soria- 2 Freshman Ellie Clements- 2 They all did a wonderful job, and Connor will play again at State on April 29th at Friends University.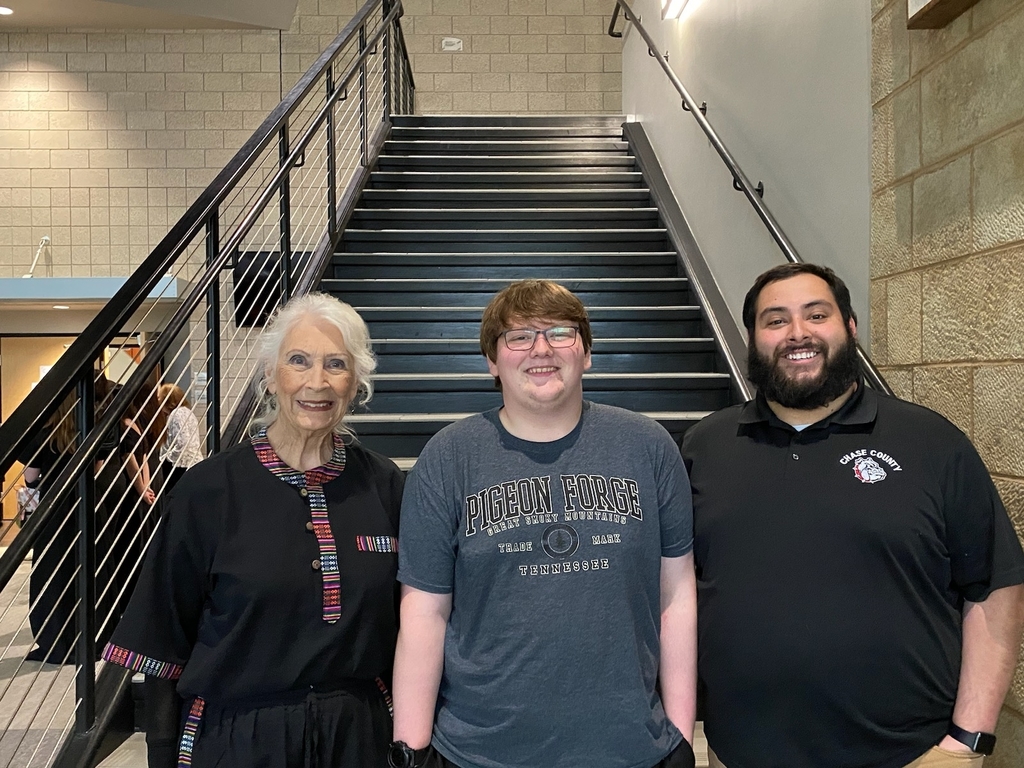 Good Morning- Promenade will start be from 7PM to 7:30PM tonight at the Chase County Courthouse. Students please line cars up on east side of courthouse. You will drive down to front of courthouse. We will announce the couples. The couples will get out for pictures and cars will be valet parked on west side. Thank you!

Prom Update: Prom is Saturday, April 15. There will be a photo opportunity at Spring Street Retreat starting at 5 PM. Promenade will start at 7 PM at the Courthouse!


Calendar Update: Monday, April 17 - HS Track @ Iola 10:30 am Tuesday, April 25 - HS BsB here with West Franklin 6 pm (makeup game) 6 pm Thursday, April 27 - HS Softball only @ Mission Valley (Harveyville) 4 pm. Baseball will not be playing.

Good Morning- We will have JV baseball games on Tuesday 4/11/2023 against Northern Heights. Games will be played in Admire starting at 4pm. Thank you! Coaches

Just a quick reminder that USD 284 will NOT have school on Friday, April 7 and on Monday, April 10.

Yesterday, the Flint Hills League Art Show was held in Mission Valley, where 16 participants from Chase County took part. Here are the results: Charcoal 2nd place - Hadison Hatcher Honorable Mention - Micayla Simpson Pencil 3rd - Daysha Schickel Colored Pencil Honorable Mention - Lyida Filinger Acrylic/ Oil Painting Honorable Mention - Kassidy Budke Ink 3rd place - John Paul Ceramic Sculpture 2nd place - Rhyland Haid

We will make up our baseball game with West Franklin on April 25 here. The 7 inning game will start at 6 pm.

Several CCES students traveled to the state science fair late last week. They represented Chase County so well! Congratulations to everyone who attended! Ava Matile won Division II (which includes 6th -8th graders) and received a cash prize, AND she is one of 6 students that will represent Kansas at a virtual science fair in Colorado. She is presenting in the Earth & Environmental science category. Ali Burton won in Physics & Astronomy, Tate Gibb and Pake Bailey placed 3rd in Animal Science. Annette Neff placed 2nd in Physics & Astronomy.

USD 284 will not have school on Tuesday, March 28. CCJSHS will be hosting the FHL Forensics starting at 2 pm.

Just a quick reminder: We will NOT have school on Friday, March 24.

We will NOT have school on Friday, March 24 or Tuesday, March 28.

Reminder PATHS is having a barn dance tomorrow for the grade school kids and their families from 6:30 to 8:30. Light snacks will be provided. Come join the fun!!

Pre-K Screener for Chase County April 4th @ Chase County Elementary School 8:30-3:30 Call the elementary school for questions and to schedule a pre-kindergarten screener. 620-273-6676

The high school winter sports banquet will be held on Thursday, March 23 at 6:30 pm. It is a potluck dinner recognizing the high school athletes involved in basketball, cheer, and wrestling.

Good Afternoon- Reminder to all 7th-12th graders speed camp will resume tomorrow at 6:45 am! Thanks Coaches

Construction around CCES: The sidewalk construction in Strong City has started. There is a lot going on around CCES. No roads are currently blocked, but they have dug up quite a bit with many cones around corners, resulting in narrow streets. They've taken out many sidewalks which may cause pedestrians to be walking in street. Please be aware of this as you drive in the area. If your child walks to school, please discuss safe routes and safety awareness.